Property subject to VAT. For further information regarding lot specific stipulations on the "Applicability of VAT", refer to Section 2.3 of Koller's Conditions of sale.
Signature: Signed and dated lower left: fwinter 58, and titled, signed and dated on the reverse: Kleiner Garten fWinter 58.
Image rights: Courtesy of Koller Auktionen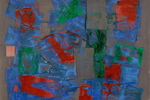 1962 Kassel, Fritz Winter. Neue Bilder und Bilder aus Kasseler Privatbesitz. Kasseler Kunstverein, 21 January - 19 February 1962, no. 73.
1992/1993 Kassel, Fritz Winter 1905-1976. Staatliche Museen Kassel, Neue Galerie, 21 November 1992 - 31 January 1993, no. 174.
Lohberg, Gabriele: Fritz Winter. Leben und Werk mit Werkverzeichnis der Gemälde und einen Anhang der sonstigen Techniken, Munich 1986, no. 2175.
Collection Hermann Kessler, Kassel; acquired directly from the artist's studio in the 1950s.
By descent to the present owner, private collection Northern Germany.
About Fritz Winter
Fritz Winter is one of the most celebrated German abstract painters of the 1950s. Absorbing the lessons of his Bauhaus teachers Paul Klee and Wassily Kandinsky, Winter practiced a soft-edged, biomorphic style of painting characterized by forms that often resembled characters or glyphs—a type of universal language that seemed all the more urgent following the devastating nationalism of World War II. Like many artists at this time who worked in a "formless" abstract style (Art Informel), Winter saw abstract painting as a regenerative antidote to the horrors of the war in which he fought. He was included in the very first Documenta exhibition, a now celebrated art world institution, and taught for decades at the Fine Art Academy in Kassel, Germany.
German, 1905-1976, Altenbögge, Germany