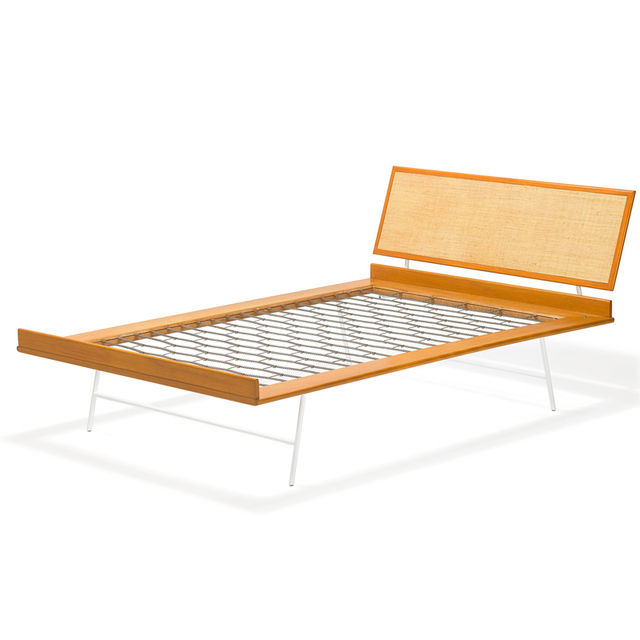 Thin Edge full-size bed, Zeeland, MI
Enameled steel, birch, grass cloth
34 × 82 × 54 in
86.4 × 208.3 × 137.2 cm
23 1/2" x 17 1/2" x 18 1/2", headboard: 54" x 31"
Often cited as one of the founders of American modernism, industrial designer George Nelson is responsible for some of the most iconic furniture created in the 20th century. His utopian view of design, which he argued in the pages of Architectural Forum where he was an editor in the 1930s and '40s, resulted in domestic standbys of contemporary domestic architecture, such as the family room and the storage wall. Nelson worked for Herman Miller for over a quarter-century, helping the company come up with their famously functional furniture pieces. Idealistic until the end, Nelson believed that "total design is nothing more or less than a process of relating everything to everything."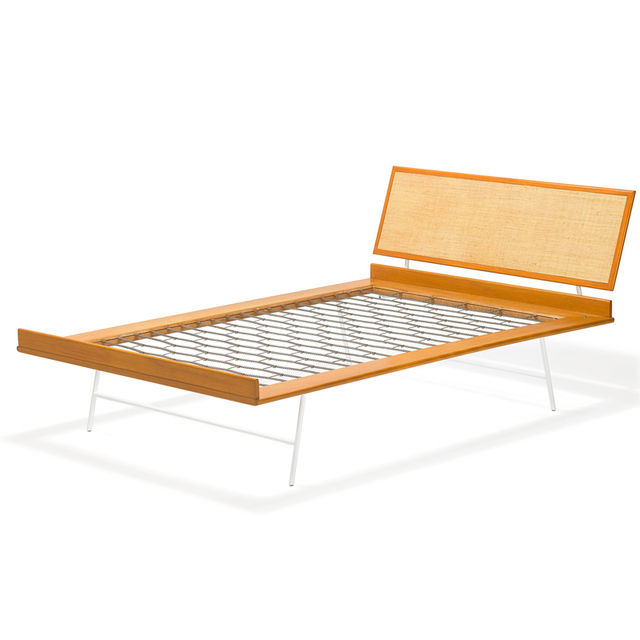 23 1/2" x 17 1/2" x 18 1/2", headboard: 54" x 31"
Often cited as one of the founders of American modernism, industrial designer George Nelson is responsible for some of the most iconic furniture created in the 20th century. His utopian view of design, which he argued in the pages of Architectural Forum where he was an editor in the 1930s and '40s, resulted in domestic standbys of contemporary domestic architecture, such as the family room and the storage wall. Nelson worked for Herman Miller for over a quarter-century, helping the company come up with their famously functional furniture pieces. Idealistic until the end, Nelson believed that "total design is nothing more or less than a process of relating everything to everything."
Thin Edge full-size bed, Zeeland, MI
Enameled steel, birch, grass cloth
34 × 82 × 54 in
86.4 × 208.3 × 137.2 cm