This photograph is part of the Kate Moss Portfolio. View the whole portfolio by clicking here.
Each box contains eleven pigment prints, signed by the photographer.
Signed on the colophon by Kate Moss
Box and design by Ruth Ansel
Printing by Adamson Editions
Series: Kate Moss Portfolio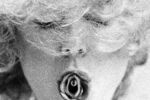 About Inez & Vinoodh
Partners and collaborators, Inez & Vinoodh (Inez van Lamsweerde and Vinoodh Matadin) are fashion and fine art photographers who explore the boundaries of each genre. Among the first photographers to harness the full potential of digital manipulation, they strive to question social and gender norms with their work, combining the beautiful with the bizarre, the classical with camp. Having worked since the early 1990s, Inez & Vinoodh have treated a myriad of genres (nude, portrait, still life, tableau), producing images for art, fashion and popular culture as well as experimental montage and assemblage.
Dutch, 1963 and 1961, Amsterdam, Netherlands, based in New York, New York