Associated with the Neo-Geo movement of the 80's, Koons quickly went from a struggling artist working the MoMA membership desk to enfant terrible of the post-Pop art world. Embracing kitsch and banality and coupling it with a Warholian artist-as-brand, Koons solidified himself as both an art market force and a puckish prankster capable of confounding the public with his overly slick productions.
Created in conjunction with the MoCA Los Angeles, the Balloon Dog plate edition is the miniaturized version of his massive Balloon Dog sculpture, both in size and expense. Perfect for an editioned art multiple, the Balloon Dog is an excellent representation of the commodified, mass-market nature of Koons' work. —Courtesy of Doyle
Please note that this work is missing the box and stand. Due to a production flaw, the red coating is not completely covering the figure, specifically in the crevice under the ear and at the hind leg joint. For additional questions, please contact specialist@artsy.net.
Image rights: Courtesy of Doyle
Manufacturer: Museum of Contemporary Art, Los Angeles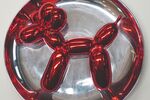 About Jeff Koons
Jeff Koons plays with ideas of taste, pleasure, celebrity, and commerce. "I believe in advertisement and media completely," he says. "My art and my personal life are based in it." Working with seductive commercial materials (such as the high chromium stainless steel of his "Balloon Dog" sculptures or his vinyl "Inflatables"), shifts of scale, and an elaborate studio system involving many technicians, Koons turns banal objects into high art icons. His paintings and sculptures borrow widely from art-historical techniques and styles; although often seen as ironic or tongue-in-cheek, Koons insists his practice is earnest and optimistic. "I've always loved Surrealism and Dada and Pop, so I just follow my interests and focus on them," he says. "When you do that, things become very metaphysical." The "Banality" series that brought him fame in the 1980s included pseudo-Baroque sculptures of subjects like Michael Jackson with his pet ape, while his monumental topiaries, like the floral Puppy (1992), reference 17th-century French garden design.
American, b. 1955, York, Pennsylvania, based in New York, New York