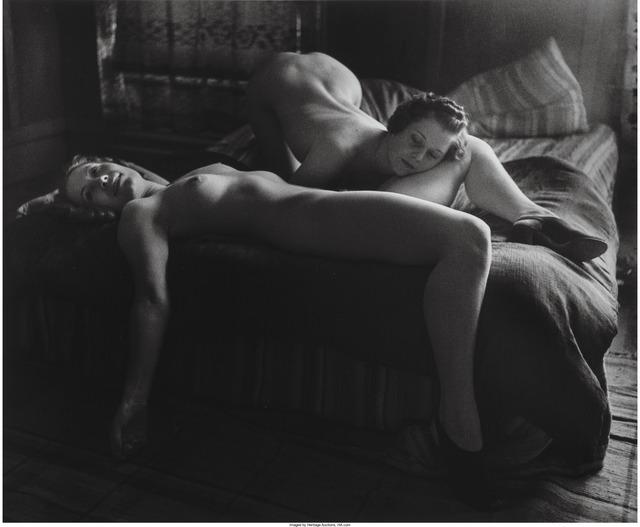 Two Nudes Attracted, 1937
Gelatin silver, printed later
10 1/8 × 12 in
25.7 × 30.5 cm
Condition Report: Sheet measures 11 x 14 inches; unmounted; not framed; one half moon crease to the …
Signed, titled, and dated in pencil on verso.
Courtesy of Heritage Auctions

John Gutmann
German-American, 1905–1998
•
Trained as a painter in pre-war Germany, John Gutmann moved to America in 1933, when he picked up a camera, taught himself how to use it, and went on to become one of the foremost photojournalists of the 20th century. With his keen eye for composition and attunement to the avant-garde, he captured the character of his adopted country with artfulness and wit. In 1936, he embarked upon a cross-country road trip, photographing from coast-to-coast, amassing a body of images of Depression-era America. He also focused on the burgeoning car culture, street scenes, and, like Walker Evans, the sign-riddled American landscape. Gutmann served as a photographer with the U.S. Army during WWII, documenting the Pacific theater. His photographs have been published in national and international publications and shown worldwide; they reflect what he described as "the marvelous extravagance of life."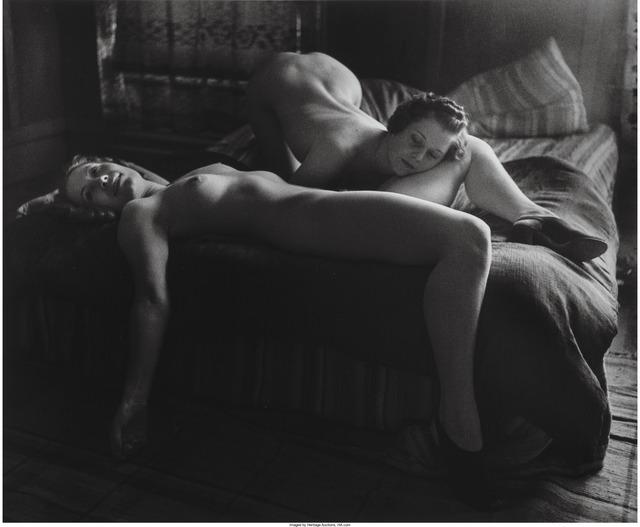 Condition Report: Sheet measures 11 x 14 inches; unmounted; not framed; one half moon crease to the lower right corner margin, not affecting the image.
Signed, titled, and dated in pencil on verso.
Courtesy of Heritage Auctions

John Gutmann
German-American, 1905–1998
•
Trained as a painter in pre-war Germany, John Gutmann moved to America in 1933, when he picked up a camera, taught himself how to use it, and went on to become one of the foremost photojournalists of the 20th century. With his keen eye for composition and attunement to the avant-garde, he captured the character of his adopted country with artfulness and wit. In 1936, he embarked upon a cross-country road trip, photographing from coast-to-coast, amassing a body of images of Depression-era America. He also focused on the burgeoning car culture, street scenes, and, like Walker Evans, the sign-riddled American landscape. Gutmann served as a photographer with the U.S. Army during WWII, documenting the Pacific theater. His photographs have been published in national and international publications and shown worldwide; they reflect what he described as "the marvelous extravagance of life."
Two Nudes Attracted, 1937
Gelatin silver, printed later
10 1/8 × 12 in
25.7 × 30.5 cm