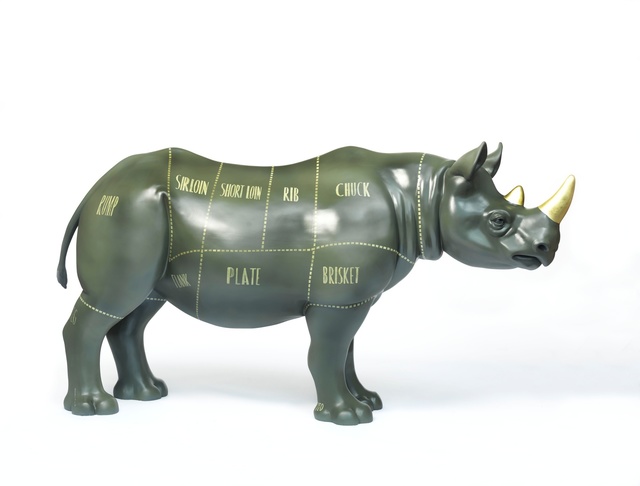 Final Cuts, 2018
Rhino: fibreglass rhino (fire retardant) with internal armature Finish: Oil paint and varnishes
57 9/10 × 74 4/5 × 23 3/5 in
147 × 190 × 60 cm
Jonathan Yeo is a contemporary portraitist, having painted Dennis Hopper, Cara Delevingne, Prince …
Courtesy of the artist and Tusk.

Self-taught artist Jonathan Yeo, known as one of the most successful portrait painters in the U.K., makes portraits of celebrities and politicians such as Tony Blair, George W. Bush, Dennis Hopper, and Paris Hilton. Interested in the shock value of nudity and pornography, in 2003, the artist caused a stir when he presented a full frontal male nude at the Royal Society of Portrait Painters in London. In 2007, Yeo began using imagery from pornographic magazines to make realistic collage portraits. (After a presidential commission was cancelled, Yeo instead made a collage of George W. Bush entirely from pornographic magazines.)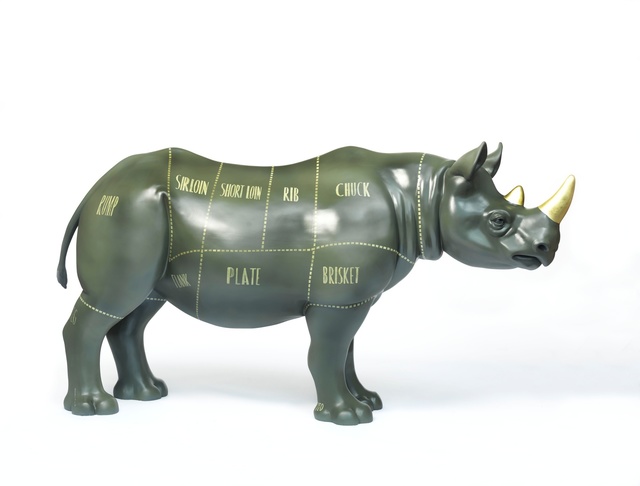 Jonathan Yeo is a contemporary portraitist, having painted Dennis Hopper, Cara Delevingne, Prince Philip, Erin O'Connor and David Cameron among others. Renowned for his distinctive, highly figurative canvases and striking collages, his ongoing innovations in theme and narrative and his engagement with society …
Courtesy of the artist and Tusk.

Self-taught artist Jonathan Yeo, known as one of the most successful portrait painters in the U.K., makes portraits of celebrities and politicians such as Tony Blair, George W. Bush, Dennis Hopper, and Paris Hilton. Interested in the shock value of nudity and pornography, in 2003, the artist caused a stir when he presented a full frontal male nude at the Royal Society of Portrait Painters in London. In 2007, Yeo began using imagery from pornographic magazines to make realistic collage portraits. (After a presidential commission was cancelled, Yeo instead made a collage of George W. Bush entirely from pornographic magazines.)
Final Cuts, 2018
Rhino: fibreglass rhino (fire retardant) with internal armature Finish: Oil paint and varnishes
57 9/10 × 74 4/5 × 23 3/5 in
147 × 190 × 60 cm