From the Specialists:
Known for her fun, colorful, large scale paintings of everyday consumables, this print mimics Bernhardt's patterned, bold canvases. The fries and coffee maker pop off the mint green background and recall classic still life paintings as well as the all over painterly technique of abstract expressionists.
—Courtesy of Phillips
Signature: Signed, dated and numbered 33/50 in pencil (there were also 7 artist's proofs), co-published by Artspace and NADA, New York, unframed.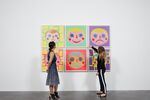 About Katherine Bernhardt
Katherine Bernhardt first garnered the art world's attention with her portraits of fashion models, exploring hyperreal fashion photography and mainstream notions of beauty. More recently, she has focused her energies on a series of "Pattern Paintings"—large-scale works in tropical, sherbert hues depicting banal consumer goods, arranged in the style of jazz patterns. Fluid and hurried, Bernhardt's canvases are seemingly provisional, radiating energy so as to express the pleasure of art-making. First exploring patterns in the context of imported rugs, Bernhardt's more recent works stem from an interest in Dutch wax printing and the all-over patterning of African textiles. Her subjects are selected and grouped according to underlying emotional associations—whether hamburgers, french fries, and basketballs; or coffee, cigarettes, and pizza—and broken down into elemental details, pure forms, and swaths of color to build simpler, yet expressive, arrangements.
American, b. 1975, St. Louis, Missouri, based in Brooklyn, New York
Group Shows
2015
Harper's Books,
East Hampton,
#crowdedhouse
Fair History on Artsy