Property Subject to VAT Section 4 (5%; see Conditions of Sale for further information)
From the Catalogue:
Brooklyn-based artist KAWS re-appropriates bits of popular culture and transforms them into eye catching iconic sculptures and paintings. His cartoon characters, recognizable to the media savvy public, undergo a sardonic set of alterations. Beginning his career in New York, he initiated his 'forced collaborations' by marking up fashion advertisements found in New York City phone booths, adding his own signature motifs to already existing photographic imagery and eventually expanding his practice to paintings and sculptures of varying sizes.
The present lot, Accomplice from 2010 stands at a towering height in a childlike pink hue and is skilfully accented with KAWS' iconic white gloves and signature 'X' eyes. Drawing reference to a pink Bugs Bunny, he also adorned the figure with a white bib, bow and cotton ball tail. Though visually charming and simplistic, the process behind fabricating Accomplice is in fact quite complex, as he must translate his vision in the round, working in 3D modelling software. Beginning as table top toys, KAWS explains that to him, toys were a way to enter into sculpture practice and, as he comments, 'the only way I could see my work three-dimensionally.' (KAWS, quoted in Kathryn Branch, 'The KAWS Effect,' T Magazine, 7 June 2011) Blown up to life-size scale, the present lot playfully draws upon a connection to the art historical tradition of figurative sculpture, beginning with Egyptian sarcophagi. The resulting sculpture is an adult-sized toy, injecting humour into more mature notions of life and death as signified by the ancient symbols it recalls. The sculptural characters KAWS creates fuse childhood whimsy with a melancholic twist, as in the present lot, a beloved childhood cartoon suspiciously titled Accomplice.
—Courtesy of Phillips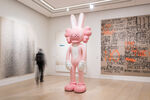 Paris, Galerie Emmanuel Perrotin, KAWS: Pay the Debt to Nature, 6 November - 23 December 2010 (another example exhibited)
Philadelphia, Pennsylvania Academy of Fine Arts, KAWS @ PAFA, 12 October 2013 - 5 January 2014 (another example exhibited)
Honor Fraser, Los Angeles
Private Collection, Europe
Phillips, London, 15 October 2014, lot 47
Private Collection, Hong Kong (acquired at the above sale)
Private Collection, New York
About KAWS
"KAWS" is a graffiti artist, illustrator, painter, sculptor, product designer, and toymaker. His cartoonish style—including his best-known characters with X-ed out eyes—has its roots in his early career as a street artist, when he began replacing advertisements with his own, masterful acrylic paintings in the early 1990s. Since, KAWS has embraced the commercialist spirit of Claes Oldenburg and Takashi Murakami, designing everything from Kanye West album covers to Nike sneakers. Avoiding the distinction between products and art objects, KAWS has shown his work increasingly in galleries and museums over the past decade; some of his most famous images are reimagined versions of pop characters like Mickey Mouse and the Michelin Man.
American, b. 1974, Jersey City, New Jersey, based in Brooklyn, New York