This work is accompanied by a certificate of authenticity issued by Original Fake.
From the Catalogue:
Inspired by the Pop aesthetics of Claes Oldenburg and Tom Wesselmann and driven by his personal captivation with cartoon characters like Bugs Bunny, Mickey Mouse or the Michelin Man, KAWS, born Brian Donnelly, emerged from the 1990s New York street art scene where he began his career creating 'forced collaborations' by employing advertisement found in public places such as telephone booths. Upon his move to Tokyo, where he continued to broaden his lexicon as a graffiti provocateur, KAWS also embraced the expanding universe of limited edition toys and appropriated these into his art, ultimately creating his own cast of characters and such works of art as Four Foot Dissected Companion.
The character, Companion, based on the well-known cartoon Mickey Mouse, can be seen in the right part of the body which features a grayscale clown-like figure resembling the same skinny-legged appearance of the Walt Disney creation. Companion's right half is further marked with the artist's stylistic signature: exaggerated ears and the typical crossed-out eyes. Intriguingly the left half of the figure in the present lot has been dissected, as the title suggests, as if KAWS sought to examine every possible layer of this world-famous pop culture icon and reveal the bitter truth; childhood is over and that behind a cartoon there lurks a human being. Blending humour with more mature notions of life and death, Four Foot Dissected Companion is playful and contemplative at the same time, and reminds its viewers of the ephemerality of both the body and the nature of fun. With works like the present one KAWS joins a formidable list of artists including Takashi Murakami and Yoshitomo Nara who, in producing these "toys", aim to blur the line between art and commerce.
—Courtesy of Phillips
Signature: incised 'Medicom Toy 2009 Made in China © KAWS 09' on the underside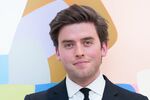 Medicom, Original Fake
Acquired from the above by the present owner
About KAWS
"KAWS" is a graffiti artist, illustrator, painter, sculptor, product designer, and toymaker. His cartoonish style—including his best-known characters with X-ed out eyes—has its roots in his early career as a street artist, when he began replacing advertisements with his own, masterful acrylic paintings in the early 1990s. Since, KAWS has embraced the commercialist spirit of Claes Oldenburg and Takashi Murakami, designing everything from Kanye West album covers to Nike sneakers. Avoiding the distinction between products and art objects, KAWS has shown his work increasingly in galleries and museums over the past decade; some of his most famous images are reimagined versions of pop characters like Mickey Mouse and the Michelin Man.
American, b. 1974, Jersey City, New Jersey, based in Brooklyn, New York