Paired with Kenny Scharf
Keith Haring created the original Blueprint Drawings from 1980–1981, and later reflected, "They form a perfect time capsule of my beginning in New York City." In 1990, a month before the artist died, Haring revisited these works and created a series of 17 screenprints from the original drawings. Featuring the iconic characters that make up Haring's distinctive visual language, these works represent the final project of the artist's career. Haring's work is displayed in major museums around the world such as the Whitney Museum of American Art, New York; the Centre Georges Pompidou, Paris; and the Stedelijk Museum, Amsterdam.
Sheet: 42 1/2 x 47 in; Framed: 43 3/4 x 48 in
Signature: Signed, dated and numbered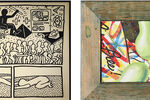 About Keith Haring
Bridging the gap between the art world and the street, Keith Haring rose to prominence in the early 1980s with his graffiti drawings made in the subways and on the sidewalks of New York City. Combining the appeal of cartoons with the raw energy of Art Brut artists like Jean DuBuffet, Haring developed a distinct pop-graffiti aesthetic centered on fluid, bold outlines against a dense, rhythmic overspread of imagery like that of babies, barking dogs, flying saucers, hearts, and Mickey Mouse. In his subway drawings and murals, Haring explored themes of exploitation, subjugation, drug abuse, and rising fears of nuclear holocaust, which became increasingly apocalyptic after his AIDS diagnosis. Alongside Jean-Michel Basquiat, Kenny Scharf, and Jenny Holzer, Haring is regarded as a leading figure in New York East Village Art scene in the 1970s and '80s.
American, 1958-1990, Reading, Pennsylvania, based in New York, New York