Hat measures 11 x 8 x 3 inches.
Known to be incredibly friendly and approachable, Keith Haring always seemed to be more than willing to give a fan a free doodle on a jacket, shirt, or card when asked. This vintage Pop Shop cap features a quick drawing of his beloved baby, drawn in 1989, possibly at a party or gallery opening, or at the Pop Shop itself. —Courtesy of Doyle
Signature: Signed K. Haring and dated 89
Image rights: Courtesy of Doyle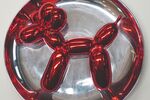 About Keith Haring
Bridging the gap between the art world and the street, Keith Haring rose to prominence in the early 1980s with his graffiti drawings made in the subways and on the sidewalks of New York City. Combining the appeal of cartoons with the raw energy of Art Brut artists like Jean DuBuffet, Haring developed a distinct pop-graffiti aesthetic centered on fluid, bold outlines against a dense, rhythmic overspread of imagery like that of babies, barking dogs, flying saucers, hearts, and Mickey Mouse. In his subway drawings and murals, Haring explored themes of exploitation, subjugation, drug abuse, and rising fears of nuclear holocaust, which became increasingly apocalyptic after his AIDS diagnosis. Alongside Jean-Michel Basquiat, Kenny Scharf, and Jenny Holzer, Haring is regarded as a leading figure in New York East Village Art scene in the 1970s and '80s.
American, 1958-1990, Reading, Pennsylvania, based in New York, New York