Executed on a photograph by Tseng Kwong Chi in 1984.
Property Subject to VAT Section 4 (5%; see Conditions of Sale for further information)
From the Catalogue:
The early '80s were highly prolific years for Keith Haring as the artist teamed up with some of the leading figures of the New York art and social scene. Amongst these, the award-winning choreographer and provocative dancer Bill T. Jones who rose to prominence when he founded the Bill T. Jones/Arnie Zane Dance Company with his long-term partner Arnie Zane. Keith and Bill crossed each other's paths in London in 1983, at a time when the graffiti artist was opening a major show at the Robert Fraser Gallery, and together they produced a series of exceptional collaborations in both performance and drawing. Explaining the artistic connection that Jones felt with Haring, he affirmed "Arnie Zane and I were also very interested in getting out of the avant-garde ghetto. Haring had found a way by going into another ghetto... I really loved the fact that he was a tag artist, and that he could go in and out of that milieu. And I saw at least a feeling, if not exactly a one-to-one corollary, between what Arnie and I were trying to do and our critique of high and low, and Keith's modus operandi, which very much moved from the art gallery to the streets" (Alanna Martinez, Full Frontal Art: A Q&A With Choreographer Bill T. Jones About Working With Keith Haring, May 2009, BlouinArtInfo, online resource).
For this series Haring borrowed Jones' body - from head to toe - as the canvas to his work. At the end of a process lasting over fours hours the choreographer found himself all covered in white acrylic paint with the characteristic bold pictograms wich represent Haring's own artistic signature. Next, Tseng Kwong Chi photographed Jones performing freely and spontaneously in the studio and the collaboration between the three artists resulted in the production of black and white photographs which are nothing less than pure artistic magic. Herein, to further imprint his own seal, Haring expanded the black graffiti-like pattern to the white background so that Jones' sinuous body becomes hardly discernible.
—Courtesy of Phillips
Signature: Signed, titled, inscribed and dated 'K. Haring Photo: Tseng Kwong Chi, Model: Bill T. Jones Keith Haring 1984 April 24' on the reverse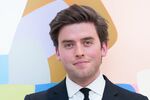 Private Collection (acquired directly from the artist)
Phillips, New York, 19 September 2013, lot 56
Acquired at the above sale by the present owner
About Keith Haring
Bridging the gap between the art world and the street, Keith Haring rose to prominence in the early 1980s with his graffiti drawings made in the subways and on the sidewalks of New York City. Combining the appeal of cartoons with the raw energy of Art Brut artists like Jean DuBuffet, Haring developed a distinct pop-graffiti aesthetic centered on fluid, bold outlines against a dense, rhythmic overspread of imagery like that of babies, barking dogs, flying saucers, hearts, and Mickey Mouse. In his subway drawings and murals, Haring explored themes of exploitation, subjugation, drug abuse, and rising fears of nuclear holocaust, which became increasingly apocalyptic after his AIDS diagnosis. Alongside Jean-Michel Basquiat, Kenny Scharf, and Jenny Holzer, Haring is regarded as a leading figure in New York East Village Art scene in the 1970s and '80s.
American, 1958-1990, Reading, Pennsylvania, based in New York, New York