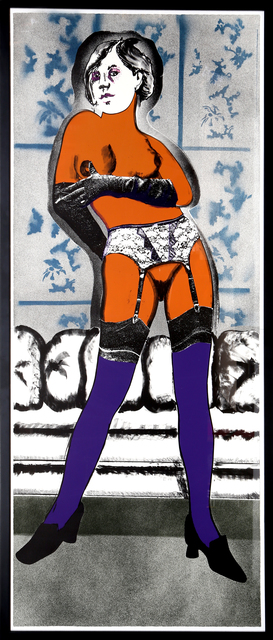 For Adults Only, 1971
Offset Lithograph with Collage on Two Sheets of Wove paper
74 × 33 in
188 × 83.8 cm
Edition 19/35
$7,500
Ships from Long Island City, NY, US
Shipping: $450 domestic, $750 rest of world

Artist: Larry Rivers, American (1923 - 2002)
Title: For Adults Only
Year: 1971
Medium: Offset …
Hand-signed by artist, Signed and numbered in pencil.
ULAE West Islip, New York

Painter, sculptor, poet, and musician Larry Rivers was an established figure in the New York School, recognized for creating large paintings merging abstract and narrative elements, as in Washington Crossing the Delaware (1953), where the general leads his men through a space defined by murky oil washes and broad gestural brushwork. Rivers studied in the late 1940s under Hans Hofmann, the artist often regarded as the grandfather of Abstract Expressionism, but he never abandoned figuration, his compositions often including human subjects and text, as in Vocabulary Lesson (Polish) (1964). Rivers' work is often compared to that of postmodern artists Jasper Johns and Robert Rauschenberg, and is considered an important precursor to Pop art. As Andy Warhol once said, "Larry's painting style was unique—it wasn't Abstract Expressionism and it wasn't Pop, it fell into the period in between. But his personality was very Pop."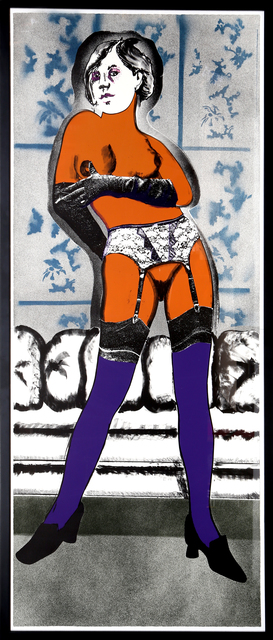 Artist: Larry Rivers, American (1923 - 2002)
Title: For Adults Only
Year: 1971
Medium: Offset Lithograph with Collage on Two Sheets of Wove paper, signed and numbered in pencil
Edition: 19/35
Size: 70.25 x 29.25 in. (178.44 x 74.3 cm)
Frame Size: 74 x 33 inches
Published by ULAE West Islip, New York
Hand-signed by artist, Signed and numbered in pencil.
ULAE West Islip, New York

Painter, sculptor, poet, and musician Larry Rivers was an established figure in the New York School, recognized for creating large paintings merging abstract and narrative elements, as in Washington Crossing the Delaware (1953), where the general leads his men through a space defined by murky oil washes and broad gestural brushwork. Rivers studied in the late 1940s under Hans Hofmann, the artist often regarded as the grandfather of Abstract Expressionism, but he never abandoned figuration, his compositions often including human subjects and text, as in Vocabulary Lesson (Polish) (1964). Rivers' work is often compared to that of postmodern artists Jasper Johns and Robert Rauschenberg, and is considered an important precursor to Pop art. As Andy Warhol once said, "Larry's painting style was unique—it wasn't Abstract Expressionism and it wasn't Pop, it fell into the period in between. But his personality was very Pop."
For Adults Only, 1971
Offset Lithograph with Collage on Two Sheets of Wove paper
74 × 33 in
188 × 83.8 cm
Edition 19/35
$7,500
Ships from Long Island City, NY, US
Shipping: $450 domestic, $750 rest of world