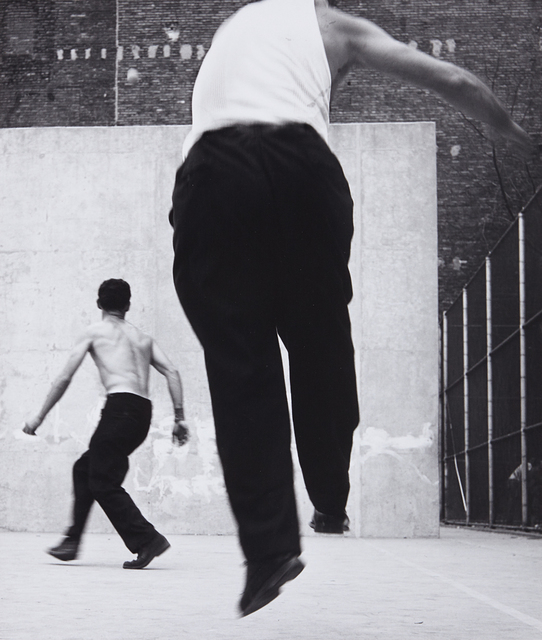 Handball players, Houston Street, New York, 1970
Gelatin silver print, printed later
18 3/10 × 15 1/2 in
46.4 × 39.4 cm
Credit stamp on the verso.
A lesser-known master of street photography, Leon Levinstein moved to New York City in 1946 and spent his life photographing strangers on the streets, in parks, and on the beach at Coney Island. Levinstein largely eschewed the art world, rarely worked on assignment, and never produced a book of his work, but his impeccably framed black-and-white photographs were championed by the famed photographers Alexey Brodovitch and Edward Steichen. By day, Levinstein worked as a graphic designer; during evenings and weekends, he ventured into crowds, capturing people in fleeting, expressive moments and creating poetic, humorous, and dark pictures. "A good photograph will prove to the viewer how little our eyes permit us to see," Levinstein once said. "Most people only see what they've always seen and what they expect to see. Whereas a photographer, if he's good, will see everything."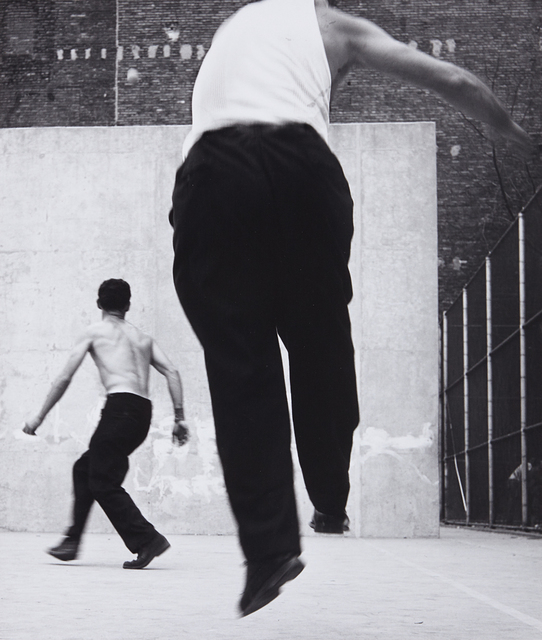 Credit stamp on the verso.
A lesser-known master of street photography, Leon Levinstein moved to New York City in 1946 and spent his life photographing strangers on the streets, in parks, and on the beach at Coney Island. Levinstein largely eschewed the art world, rarely worked on assignment, and never produced a book of his work, but his impeccably framed black-and-white photographs were championed by the famed photographers Alexey Brodovitch and Edward Steichen. By day, Levinstein worked as a graphic designer; during evenings and weekends, he ventured into crowds, capturing people in fleeting, expressive moments and creating poetic, humorous, and dark pictures. "A good photograph will prove to the viewer how little our eyes permit us to see," Levinstein once said. "Most people only see what they've always seen and what they expect to see. Whereas a photographer, if he's good, will see everything."
Handball players, Houston Street, New York, 1970
Gelatin silver print, printed later
18 3/10 × 15 1/2 in
46.4 × 39.4 cm