Traditional portraiture seeks to reveal the truth of an individual's character and likeness through a stable medium like paint or photography. Roberta's persona, however, was animated through the application of cosmetics, applied to a face as if it were a canvas, as well as through her participation in real-life adventures.
Roberta saw a psychiatrist, used a specific language, had unique handwriting, secured credit cards, a checking account, and a driver's license. She maintained a small apartment, had her own clothing, and participated in the culture and trends of her time, like Weight Watchers and EST (Erhard Seminars Training). Surveillance photographs, artifacts, and discarded ephemera captured Robert's experience and later provided credible proof that she existed.
Roberta was "born" into reality when she arrived in San Francisco on a Greyhound bus and checked into the Dante Hotel. She carried in cash her entire life savings of $1800.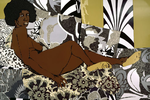 About Lynn Hershman Leeson
An early pioneer of new media artworks, Lynn Hershman Leeson explores the moral and ethical quandaries raised in a culture obsessed with technology and artifice. Leeson is perhaps best known for her creation in the 1970s of a fictitious alter ego named Roberta Breitmore, whom she brought to life through performances and photographs and exposed to such voguish experiences as therapy and Weight Watchers. Revisiting this theme decades later, Leeson created an installation re-imagining Edouard Manet's Olympia (1863) by posing a custom-made RealDoll to look like the prostitute in the iconic portrait. The installation, entitled Olympia: Fictive Projections and the Myth of the Real Woman (2007-2008), features images of Manet's painting projected onto the sex doll's body.
American, b. 1941, Cleveland, Ohio, based in San Francisco, California
Solo Shows
Group Shows
Fair History on Artsy