Philanthropist and activist Miley Cyrus and artist Marilyn Minter have collaborated on a special work to support Planned Parenthood of New York City. The print edition features an image of Cyrus shot in Minter's signature style, a steamy mediation on glamour.
Face mounted on UV Plexiglass.
Signed labels will come with the print, but will not be attached.
The listed price includes mounting, shipping, and handling of each print. Additional shipping fees may apply to international shipping. Prints will be ready to ship by the week of 4/25.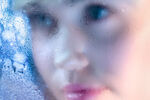 About Marilyn Minter
In visceral and gaudy paintings, photographs, and video works, Marilyn Minter examines the relationship between the body, cultural anxieties about sexuality and desire, and fashion imagery. Minter is best known for glossy, hyperrealistic paintings in enamel on metal that depict closeups of makeup-laden lips, eyes, and feet—a liquid-dripping gold-toothed smile or a pair of glistening high heels splashing in metallic fluid. Strut (2004–5) portrays a muddied foot in a gem-encrusted high heel. Minter also photographs body parts seen through panes of wet glass, captured from characteristically dynamic and provocative angles that suggest the seductive, disturbing nature of glamour.
American, b. 1948, Shreveport, Louisiana, based in New York, New York
Solo Shows
Group Shows
2014
AFTERSHOCK | The Impact of Radical Art | (WARNING: CONTENT NOT SUITABLE FOR MINORS)