Large slabs of thick, curved crystal with beveled sides. Etched squares with chipped centers run down the middle of each sconce. 7 Candelabra sockets. An extraordinary example of glass manipulation and craftsmanship. These sconces are a significant Ingrand model. This pair with entirely brass body & mounts.
Condition: Excellent. Expected wear to brass and glass shows signs of age. Wiring and sockets are new.
Image rights: Donzella LTD
Manufacturer: Fontana Arte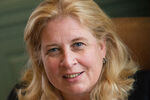 Fontana Arte 6. Manufacturer's catalog. Pg. 91
Max Ingrand, Du verre à La Lumière. Pierre Emmanuel & Martin Vivier. 2009. Pg. 188
About Max Ingrand
Creating forward-thinking and innovative pieces of furniture years before his time, French stained glass designer and decorator Max Ingrand created design classics such as the Fontana table lamp, a bulbous white-painted metal frame with a satin white blown glass shade and globe. The Italian contemporary lighting company FontanaArte, of which he was the Art Director, produced many of his iconic works. Greatly inspired by the Middle Ages, Ingrand's designs were reminiscent of the past yet relevant to the present, using modern materials such as metal and glass. Besides furniture designs, he also produced stained glass panels for religious buildings, hotels, and public spaces, including the Nôtre Dame du Pré cathedral at Le Mans and the Chenonceau Castle.
French, 1908-1969, Bressuire, France, based in Paris, France
Group Shows
2016
Hedge,
San Francisco,
Summer at Hedge
Fair History on Artsy