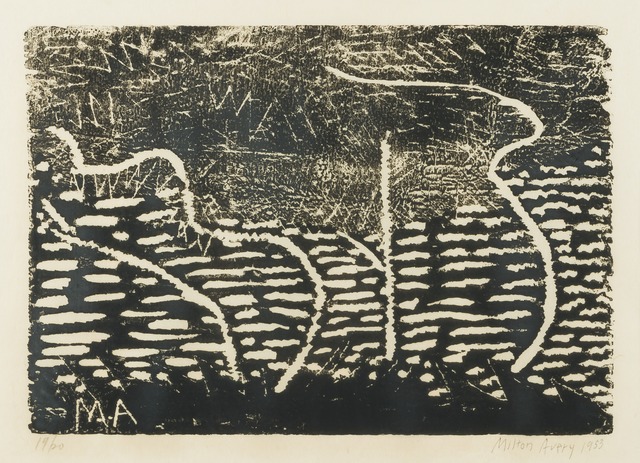 Trees by the Sea (black), 1953
Woodcut
9 3/4 × 13 7/8 in
24.8 × 35.2 cm
Signed and dated in pencil lower right margin.
Depicting everyday scenes of domestic, city, and country life, painter and printmaker Milton Avery favored simplified forms and the flat application of color, inspired by Henri Matisse and Pablo Picasso. "I try to construct a picture in which shapes, spaces, [and] colors form a set of unique relationships, independent of any subject matter," he once said. Avery's early work incorporated elements of Impressionism, but his smooth planes of color and combination of figuration and abstraction would make him an archetype of American Modernism, prefiguring aspects of Color Field painting by years. Avery was a friend and source of inspiration to artists including Mark Rothko, Adolph Gottlieb, and Barnett Newman. A man of few words, he was said to have frequently quipped, "Why talk when you can paint?"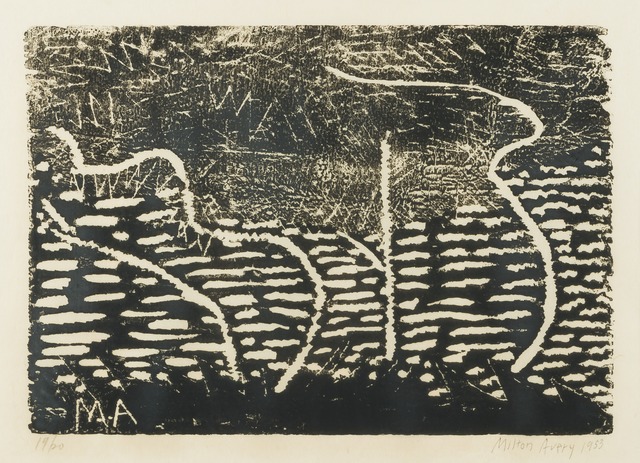 Signed and dated in pencil lower right margin.
Depicting everyday scenes of domestic, city, and country life, painter and printmaker Milton Avery favored simplified forms and the flat application of color, inspired by Henri Matisse and Pablo Picasso. "I try to construct a picture in which shapes, spaces, [and] colors form a set of unique relationships, independent of any subject matter," he once said. Avery's early work incorporated elements of Impressionism, but his smooth planes of color and combination of figuration and abstraction would make him an archetype of American Modernism, prefiguring aspects of Color Field painting by years. Avery was a friend and source of inspiration to artists including Mark Rothko, Adolph Gottlieb, and Barnett Newman. A man of few words, he was said to have frequently quipped, "Why talk when you can paint?"
Trees by the Sea (black), 1953
Woodcut
9 3/4 × 13 7/8 in
24.8 × 35.2 cm