Constantin Tacou emigrated from Romania to France in 1948. There, he became an important and charismatic figure in Bohemian post-war Paris where he worked as the editor of the Cahiers de L'Herne. Tacou not only published Rotella's biography, Une Vie D'artiste, but he was also an avid collector with an acutely discerning eye, acquiring some outstanding works by Fontana, Calder, Christo, Klein, Tinguely and Rotella.
Signed 'Rotella' lower left. This work is registered with the Fondazione Mimmo Rotella under the archive number '1938 dc 958 CA/000'.
Property Subject to the Artist's Resale Right (see Conditions of Sale for further information)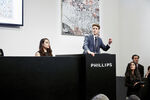 About Mimmo Rotella
Mimmo Rotella, who represented Italy in the 1964 Venice Biennale, was experimental to his core: in his poetry, paintings, photographs, sculptural assemblages, and collages, he broke down conventions, leaving behind a body of extravagant work. He began as a painter of geometric abstractions in the early 1950s, then turned away from his studio and toward the world around him. There he found weathered movie and advertising posters, which he would tear off the walls, affix to canvases, and rip further to develop semi-abstract compositions out of mass media imagery, which he called "double décollages." Through his collages, he became associated with Raymond Hains, Jacques Villeglé, and François Dufrêne—together known as Les Affichistes. Rotella was also linked to the French Nouveau Réalistes, for reflecting commodity culture, and its excesses and absurdities, in his art.
Italian, 1918-2006, Catanzaro, Italy
Group Shows
2017
Partners & Mucciaccia,
Singapore,
That's contemporary. Contemporary art From Marc Chagall to Nowadays.
2011
Complesso Monumentale del Vittoriano,
Rome, Metropolitan City of Rome, Italy,
L'Unità dell'Arte Italiana nella Diversità delle Regioni - Regioni e Testimonianze d'Italia
Fair History on Artsy
2018
CARDI GALLERY at ZⓈONAMACO 2018