Miya Ando's subtle power rests in the pairing of traditional technique (honed in an apprenticeship at the Hattori Studio in Japan) with a modern minimalist edge. Ando's works have been featured at the 56th Venice Biennale, and she is a recipient of the Pollack Krasner Foundation Grant.
Artist's Description: Ando's new series, Kintsugi, was inspired by a centuries-old Japanese form of restoration. Kintsugi, which translates as "gold joinery," is a process in which a mixture of lacquer and gold dust is used to patch cracks in broken pottery. It is a method not meant to disguise flaws, but rather emphasize them as part of a piece's history. Ando employs a process similar to this ancient technique to fill crevices between slats of shou-sugi-ban, a charred wood often used as an exterior building material in Okayama. Recalling memories of local Buddhist temples from her childhood in Japan, Ando uses the gold fill as an allusion to a golden light emanating from within a sacred structure.
Purchase includes catalogue.
Signature: Signed on verso
Image rights: Courtesy of the artist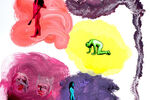 About Miya Ando
Drawing on her multicultural upbringing—she is half Japanese, half Russian-American, and was raised both in a Buddhist temple in Japan and in Northern California—Miya Ando combines metals, reflectivity, and light to create subtly beautiful metal canvases and sculpture. "Ultimately I am interested in the study of subtraction to the point of purity, simplicity and refinement," she says of the quiet, abstract environments she creates. Burnishing and chemical treatment of the metal results in varied textures and degrees of sheen in her richly colored monochromatic metal sheets, which simultaneously evoke Mark Rothko paintings and landscapes. Striving to find a universal vocabulary, Ando says she relies on light and "a lot of vernacular that is inspired by nature." Her interest in metal stems in part from a family tradition of swordsmithing. Notably, in 2011 she incorporated 30-foot pieces of steel that had fallen from the World Trade Center into two 9/11 memorial sculptures.
American, b. 1978, Los Angeles, California, based in New York, New York