The experimental films of Nathaniel Dorsky inhabit a world of deep introspection and solitude. Dorsky himself says that film should be "a revelation of wisdom through delicate surprise," an ethos that resonates deeply throughout his body of work. In his 2015 digital still Spring, a gradient of light foregrounds a secluded forest glen, filtering the natural scene through a kaleidoscopic lens. Nathaniel Dorsky has presented his works at the Centre Pompidou, Paris; the Museum of Modern Art, New York, and the 2012 Whitney Biennial.
Artist's Description: A still image from the 16mm film, Spring," photographed during the months following the winter solstice. I wanted to see if I could make a film that was in itself a garden, a film that like the world of plants, would yearn and stretch in the oncoming light."
Framed. 9 3/4 x 12 1/4 in. Custom frame with museum glass.
Signature: Signed on verso
Image rights: Courtesy of the artist and Anglim Gilbert Gallery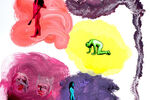 About Nathaniel Dorsky
Solo Shows
2015
Nathaniel Dorsky: Film Stills