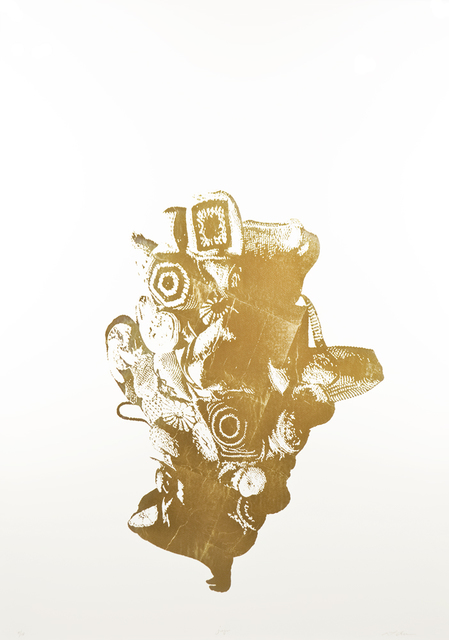 Juju, 2015
Since-color lithograph with composition gold leaf
42 1/2 × 30 in
108 × 76.2 cm

Nick Cave is a contemporary African-American artist known for his unique fabric sculptures and …
Hand-signed by artist, Signed and numbered by the artist.
Certificate of authenticity
Nick Cave is widely acclaimed for his exuberant "Soundsuits"—wearable sculptural forms based on the human body, intricately composed out of a vibrant assortment of second-hand materials. Simultaneously sculptures, costumes, and musical instruments, the Soundsuits are meant for motion. Cave and other dancers wear them, transforming them into transfixing blurs of color and sound for performances and video works. Contemplated on mannequins, the Soundsuits seem to embody the full range of human emotions. Some, covered with a pelt of dyed twigs with baskets for heads, resonate sadness; others, composed of a crazy array of colorful blankets or thrift-store tchotchkes, burst with joy and humor. "I'm totally consumed by the special attire that has a powerful and meaningful purpose within a culture," Cave explains. "I'm looking at rituals and ceremonies: Mardi Gras, Indian clothing, West African pieces, Carnival in Trinidad."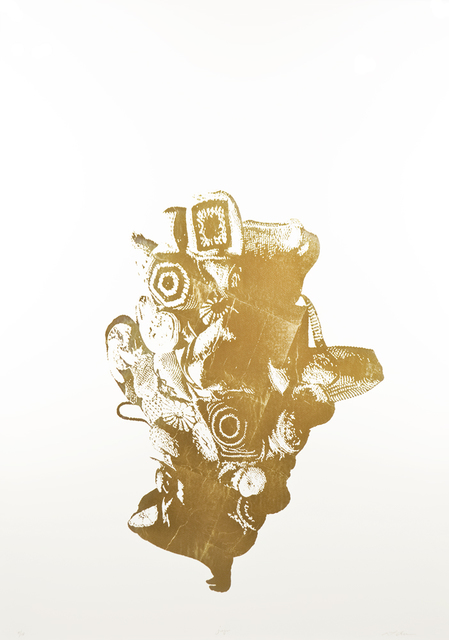 Nick Cave is a contemporary African-American artist known for his unique fabric sculptures and performances. His "Soundsuits" act as costumes, made in reaction to the police beating of Rodney King in 1992, meant to empower the person wearing them through concealing their race and gender. "I am an artist with a civic …
Hand-signed by artist, Signed and numbered by the artist.
Certificate of authenticity
Nick Cave is widely acclaimed for his exuberant "Soundsuits"—wearable sculptural forms based on the human body, intricately composed out of a vibrant assortment of second-hand materials. Simultaneously sculptures, costumes, and musical instruments, the Soundsuits are meant for motion. Cave and other dancers wear them, transforming them into transfixing blurs of color and sound for performances and video works. Contemplated on mannequins, the Soundsuits seem to embody the full range of human emotions. Some, covered with a pelt of dyed twigs with baskets for heads, resonate sadness; others, composed of a crazy array of colorful blankets or thrift-store tchotchkes, burst with joy and humor. "I'm totally consumed by the special attire that has a powerful and meaningful purpose within a culture," Cave explains. "I'm looking at rituals and ceremonies: Mardi Gras, Indian clothing, West African pieces, Carnival in Trinidad."
Juju, 2015
Since-color lithograph with composition gold leaf
42 1/2 × 30 in
108 × 76.2 cm