New York City (Models in Windows) is American photographer Ormond Gigli's most iconic shot, and was composed in less than 24 hours. In the summer of 1960, the artist noticed that the building opposite from his studio in Manhattan was being prepared for demolition. Wanting to preserve his once familiar view, he eternalized the building in one final shutter click. In less than a day, he organized an improvised cast of models, including his wife and the demolition supervisor's wife, all wearing their best dresses. —Courtesy of Fine Art Auctions Miami
In good condition. Framed: 62 1/2 x 62 1/2 inches.
Signature: Signed, titled, dated, and numbered in pencil on the reverse.
Image rights: Courtesy of Fine Art Auctions Miami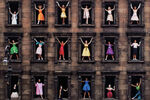 About Ormond Gigli
Ormond Gigli was born in New York City in 1925. He became famous early on during the 1950s for his photographs of theatre, celebrities, dance, exotic persons, and places. His work appeared prominently on covers & editorial pages of LIFE, TIME, Paris Match, Saturday Evening Post, Colliers, and other major international publications. Gigli worked more like a film director than a photojournalist. His ability to earn his subjects' trust in his vision—often during complicated, uncomfortable, and even dangerous setups—was as important to the photos as his technical finesse with the camera. During the 1970s and 1980s, Gigli turned to advertising photography, while continuing his editorial work. His assignments took him around the world many times. —Courtesy of Fine Art Auctions Miami
American, b. 1925, New York, NY, United States, based in New York, NY, United States