Property subject to VAT. For further information regarding lot specific stipulations on the "Applicability of VAT", refer to Section 2.3 of Koller's Conditions of sale.
Signature: Signed and dated lower right: Piene 67, also titled lower left: "Das Schwarz ist heiss".
Image rights: Courtesy of Koller Auktionen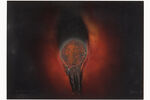 European private collection.
About Otto Piene
A founder of the 1960s Dusseldorf-based Group Zero, Otto Piene is best known for his paintings made with smoke and fire. Called Rauchbilder (smoke pictures), Piene applied solvent to pigmented paper and lit it on fire, developing images in the residual soot. Piene also created outdoor "figures" made from smoke that floated overhead—what he coined as "Sky Art"—including Olympic Rainbow, a project created for the ill-fated 1972 Summer Olympics in Munich. For nearly 20 years, Piene served as the director of the Center for Advanced Visual Studies at the Massachusetts Institute of Technology, and in 2008, with Heinz Mack and Mattijs Visser, he co-founded the International ZERO Foundation to archive documents, projects, and images produced by the famous Dusseldorf collective.
German, 1928-2014, Laasphe, Germany, based in Düsseldorf, Germany
Solo Shows
2016
PLUTSCHOW GALLERY,
Zurich,
2015
PLUTSCHOW GALLERY,
Milano,
Otto Piene a Milano
2014
PLUTSCHOW GALLERY,
Zurich,
Group Shows
2016
PLUTSCHOW GALLERY,
Zurich,
STRATEGIES AGAINST CLAY
2015
PLUTSCHOW GALLERY,
Zurich,
HORIZONS