Property subject to VAT. For further information regarding lot specific stipulations on the "Applicability of VAT", refer to Section 2.3 of Koller's Conditions of sale.
Edition 18/50. Signed lower right: Picasso, as well as dated in the stone top left: 29.1.47. Sheet size 65.8 x 50 cm on vélin by Arches (with the watermark).
Image rights: Courtesy Koller Auktionen.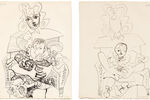 Catalogue raisonné: Bloch, no. 415.
Gauss, Ulrike (Hrsg.): Pablo Picasso. Die Lithographie. Graphikmuseum Pablo Picasso. Die Sammlung Huizinga, Münster 2000, no. 170.
About Pablo Picasso
A prolific and tireless innovator of art forms, Pablo Picasso impacted the course of 20th-century art with unparalleled magnitude. Inspired by African and Iberian art and developments in the world around him, Picasso contributed significantly to a number of artistic movements, notably Cubism, Surrealism, Neoclassicism, and Expressionism. Along with Georges Braque, Picasso is best known for pioneering Cubism in an attempt to reconcile three-dimensional space with the two-dimensional picture plane, once asking, "Are we to paint what's on the face, what's inside the face, or what's behind it?" Responding to the Spanish Civil War, he painted his most famous work, Guernica (1937), whose violent images of anguished figures rendered in grisaille made it a definitive work of anti-war art. "Painting is not made to decorate apartments," he said. "It's an offensive and defensive weapon against the enemy." Picasso's sizable oeuvre includes over 20,000 paintings, prints, drawings, sculptures, ceramics, theater sets, and costume designs.
Spanish, 1881-1973, Malaga, Spain, based in Paris and Mougins, France