6-Drawer mahogany chest with pearwood trim. Leather drawer pulls with top stitching and brass mounts. This piece comes from a series that was in production for only a few years.
Signature: Manufacturers branding to inside of top drawer.
Image rights: Donzella LTD
Manufacturer: Johnson Furniture Company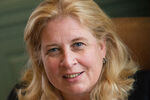 About Paul T. Frankl
A pioneer of modernist design in the United States, Paul T. Frankl is best known for his "Skyscraper" furniture from the 1920s. The compartmentalized, geometric bookshelves drew from art deco traditions and resemble the slender, strong, and distinctly American edifices of the age. Frankl went on to establish popular design studios in New York and Los Angeles, where he devised his signature "Speed" and "Propeller" chairs and became a favorite designer of Hollywood figures such as Fred Astaire, Katherine Hepburn, and Alfred Hitchcock. Frankl also popularized rattan furniture by reimagining the traditionally outdoor material in indoor settings; rattan went on to characterize the unique Los Angeles interior aesthetic of the 1940s and '50s.
Austrian-American, 1886-1958