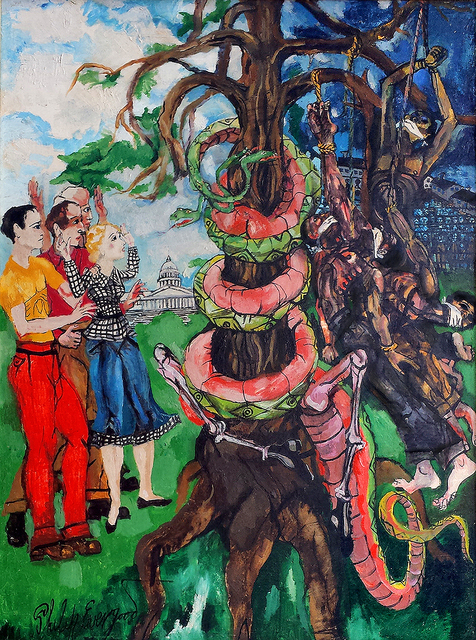 Little Rock, ca. 1955
Oil on canvas
22 × 30 1/2 in
55.9 × 77.5 cm

Evergood's early commentary on racial issues in the 1950's depicts four black men gagged, …
Hand-signed by artist, sticker label, Work is Signed lower left.
For Philip Evergood (born Philip Blashki), painting was a form of social protest. In 1923, he studied at the Art Students League under George Luks, where he began painting contemporary life with artists John Sloan and Reginald Marsh. But it was the Great Depression that inspired the most drastic change in the artist's oeuvre, as he turned to drawing horrific scenes of poverty directly from the city's streets. At the same time, he became an advocate for social change, serving as managing supervisor of the New York WPA easel project and president of the Artists Union. More concerned with conveying emotion than beautiful composition, and influenced by El Greco, Paul Cézanne, and the Surrealists, he used what he described as "the nasty color or sickly color, the sweet color or violent color or pretty-pretty-dolly color that will express the mood of what I'm trying to put over."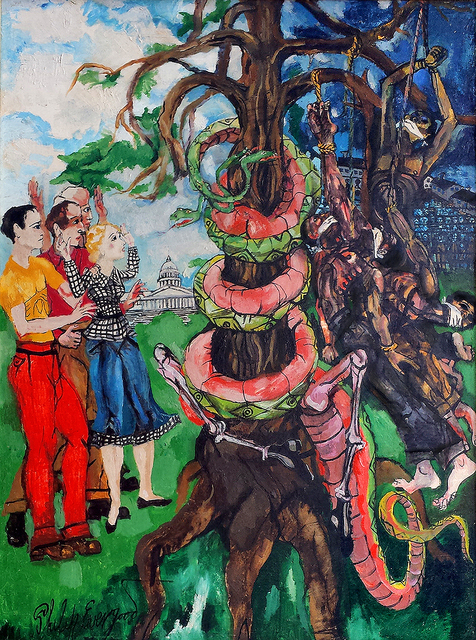 Evergood's early commentary on racial issues in the 1950's depicts four black men gagged, roped and hanging from a tree. In the background, imprisoned blacks look on thru a barbed wire fence. Whites watch in horror but do nothing to help. Meanwhile, a two legged and three headed serpent wraps himself around …
Hand-signed by artist, sticker label, Work is Signed lower left.
For Philip Evergood (born Philip Blashki), painting was a form of social protest. In 1923, he studied at the Art Students League under George Luks, where he began painting contemporary life with artists John Sloan and Reginald Marsh. But it was the Great Depression that inspired the most drastic change in the artist's oeuvre, as he turned to drawing horrific scenes of poverty directly from the city's streets. At the same time, he became an advocate for social change, serving as managing supervisor of the New York WPA easel project and president of the Artists Union. More concerned with conveying emotion than beautiful composition, and influenced by El Greco, Paul Cézanne, and the Surrealists, he used what he described as "the nasty color or sickly color, the sweet color or violent color or pretty-pretty-dolly color that will express the mood of what I'm trying to put over."
Little Rock, ca. 1955
Oil on canvas
22 × 30 1/2 in
55.9 × 77.5 cm