Dimensions variable.
"Surface Tension" is an interactive installation where an image of a giant human eye follows the observer with orwellian precision.This work was inspired by a reading of Georges Bataille's text The Solar Anusduring the first Gulf War: first wide-spread deployment of camera-guided "intelligent bombs". Present-day computerised surveillance techniques employed by the Department of Homeland Security in the United States through the Patriot Act, provide a new and distressing backdrop for this piece.
The installation was originally developed in 1992 at the Universidad Complutense de Madrid as a stage module for a theatre work by the Transition State Theory troupe. Since then, Surface Tension has been presented as an art installation, typically on a plasma screen.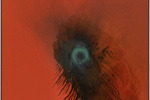 "The Cisneros Fontanals Foundation Collection", Museo Nacional de Bellas Artes, Havana, Cuba, 2012.
"No, No, I Hardly Ever Miss a Show", Zacheta National Gallery of Art, Warsaw, Poland, 2011 - 2012.
"Trackers", La Gaîté Lyrique, Paris, France, 2011.
Art Basel 42, OMR Gallery, Basel, Switzerland, 2011.
"Inpoliticos", Palazzo Art Napoli, Naples, Italy, 2009.
"Some Things Happen More Often Than All Of The Time", Mexican Pavilion, 52 Biennale di Venezia, Venice, Italy, 2007.
ARCO '05, OMR Gallery, Madrid, Spain, 2005.
Art 36 Basel Fair, OMR Gallery, Basel, Switzerland, 2005.
"Rafael Lozano-Hemmer", OMR Gallery, Mexico City, México, 2004.
Akademie der Bildenden Kunste, Nuremberg, Germany, 1993.
"2!M VR Exhibition", Comunidad de Madrid, Madrid, Spain, 1993.
"Tomorrow's Realities", SIGGRAPH'93, Anaheim, California, United States, 1993.
About Rafael Lozano-Hemmer
Electronic artist Rafael Lozano-Hemmer's public art installations combine technology, architecture, and performance using devices like robotics, projections, and cell phones. He constructs "temporary anti-monuments for alien agency," as in Pulse Tank (2008), in which heart rate sensors send ripples across the surface of water, or the Guggenheim's 2009 installation Levels of Nothingness, which allowed people to speak into a computer that linked voice traits to colors that were projected across the room. His Vectorial Elevation (1999), in which 800,000 participants created searchlight sculptures above Mexico City, may well be the world's largest interactive artwork ever.
Mexican, b. 1967, Mexico City, Mexico, based in Mexico City, Mexico
Exhibition Highlights On Artsy