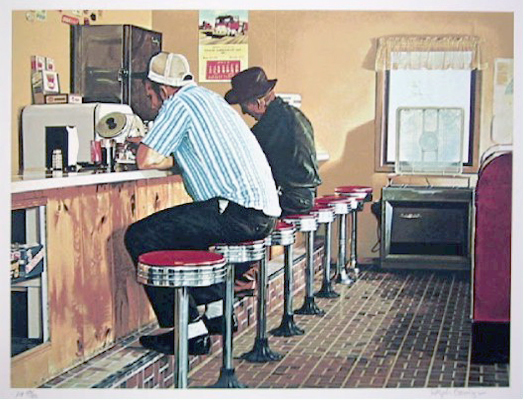 Twin Springs Diner, 1981
22 1/2 × 27 in
57.2 × 68.6 cm
Edition of 300 + 40AP
Signed and numbered in pencil on bottom.
The senior member of the original group of Photorealist painters, Ralph Goings is best known for his paintings of 35mm color slides that illustrate the familiar, middle-class imagery of California. In his non-interpretaive paintings, Goings depicts his subjects exactly as-is—matter-of-fact portrayals of tabletops, pick-up trucks, supermarkets, hamburger stands, and eventually New York diners upon his cross-country move. Born in Corning, California, Goings studied at the California College of Arts and Crafts in Oakland, followed by the California State University in Sacramento. In his process, Goings takes several hundred slides of his subject and projects his favorite image onto a canvas. After a detailed pencil drawing, he enlarges his slide to render a painting, which he has described as using "the impersonal, mechanical image of the photograph to paint a facsimile of reality."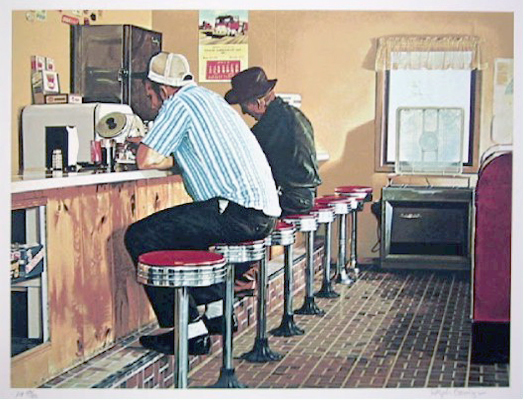 Signed and numbered in pencil on bottom.
The senior member of the original group of Photorealist painters, Ralph Goings is best known for his paintings of 35mm color slides that illustrate the familiar, middle-class imagery of California. In his non-interpretaive paintings, Goings depicts his subjects exactly as-is—matter-of-fact portrayals of tabletops, pick-up trucks, supermarkets, hamburger stands, and eventually New York diners upon his cross-country move. Born in Corning, California, Goings studied at the California College of Arts and Crafts in Oakland, followed by the California State University in Sacramento. In his process, Goings takes several hundred slides of his subject and projects his favorite image onto a canvas. After a detailed pencil drawing, he enlarges his slide to render a painting, which he has described as using "the impersonal, mechanical image of the photograph to paint a facsimile of reality."
Twin Springs Diner, 1981
22 1/2 × 27 in
57.2 × 68.6 cm
Edition of 300 + 40AP