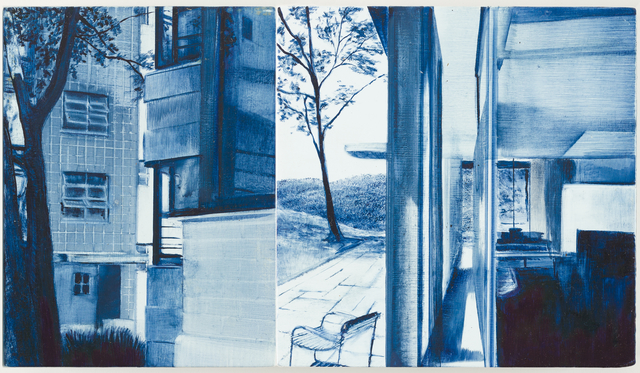 Lescaze, Public/Private Between Walls, Homatorium, 2015
Lithography ink on gessoed, muslin wrapped panel
8 × 14 × 1 in
20.3 × 35.6 × 2.5 cm
Children's Museum of the Arts Benefit Auction
Lot consists of two panels.
Using images of mid-century interiors and the geometric abstraction of Josef Albers and Barnett Newman as both source material and inspiration, Rebecca Chamberlain creates compositions that marry impeccably rendered ghostly interiors with abstract patterning. Working primarily in iridescent lithography ink on a type of tracing cloth used by architects, she draws on vintage photographs and printed documents, visibly focused on formal geometries but always considering greater psychological concerns: "I'm interested in stairways and hallways as interstitial spaces," she has said. "I'm also thinking about the points of anticipation in an interior or an image; the performative places, like a staircase, where one ascends and descends; as well as the places where one could hide and watch from behind the scenes."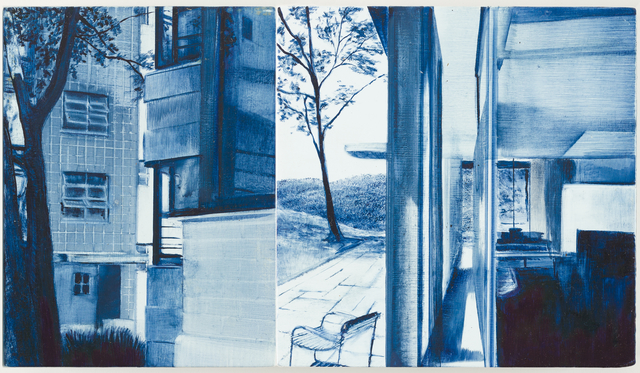 Children's Museum of the Arts Benefit Auction
Lot consists of two panels.
Using images of mid-century interiors and the geometric abstraction of Josef Albers and Barnett Newman as both source material and inspiration, Rebecca Chamberlain creates compositions that marry impeccably rendered ghostly interiors with abstract patterning. Working primarily in iridescent lithography ink on a type of tracing cloth used by architects, she draws on vintage photographs and printed documents, visibly focused on formal geometries but always considering greater psychological concerns: "I'm interested in stairways and hallways as interstitial spaces," she has said. "I'm also thinking about the points of anticipation in an interior or an image; the performative places, like a staircase, where one ascends and descends; as well as the places where one could hide and watch from behind the scenes."
Lescaze, Public/Private Between Walls, Homatorium, 2015
Lithography ink on gessoed, muslin wrapped panel
8 × 14 × 1 in
20.3 × 35.6 × 2.5 cm