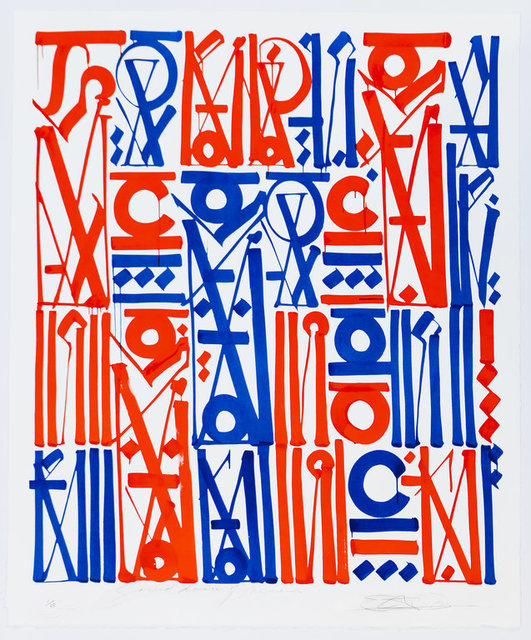 Sacred Dance Of Memories, 2017
Lithograph
32 3/10 × 26 4/5 in
82 × 68 cm
Edition of 99

White Paper BFK Rives 270 g.
Lithograph 4 colors printed with Marinoni Machines and hand cut.
Retna …
Signed, named and numbered by the artist.
The street and studio artist Retna, born Marquis Lewis, picked his moniker from the lyrics of a Wu Tang song that resonated with him in his youth. Retna explains that he was inspired to pursue art after seeing graffiti on the freeway, and his practice now includes street art and painting on canvas. Retna has become known for his long and geometric script, which he developed while looking towards Egyptian and Native American traditional symbols. Though his marks resemble the calligraphy of multiple cultures (and he maintains that he composes his works in English and Spanish), the writing does not belong to a particular language. Retna explains, "I want my text to feel universal. I want people from different cultures to all find some similarity in it—whether they can read it or not."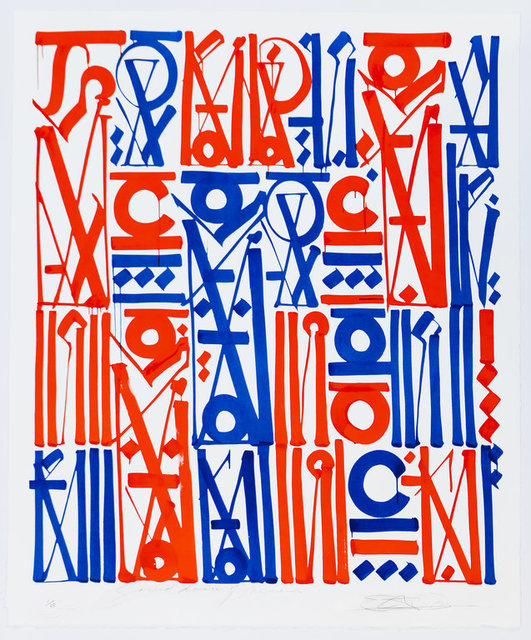 White Paper BFK Rives 270 g.
Lithograph 4 colors printed with Marinoni Machines and hand cut.
Retna is coming back on Print Them All with a new exclusive lithograph: «Sacred Dance Of Memories». We can find in this lithograph his particular calligraphic style where Arabic, Egyptian, Hebrew, Old English and Native …
Signed, named and numbered by the artist.
The street and studio artist Retna, born Marquis Lewis, picked his moniker from the lyrics of a Wu Tang song that resonated with him in his youth. Retna explains that he was inspired to pursue art after seeing graffiti on the freeway, and his practice now includes street art and painting on canvas. Retna has become known for his long and geometric script, which he developed while looking towards Egyptian and Native American traditional symbols. Though his marks resemble the calligraphy of multiple cultures (and he maintains that he composes his works in English and Spanish), the writing does not belong to a particular language. Retna explains, "I want my text to feel universal. I want people from different cultures to all find some similarity in it—whether they can read it or not."
Sacred Dance Of Memories, 2017
Lithograph
32 3/10 × 26 4/5 in
82 × 68 cm
Edition of 99