Robert Wilson's "La Traviata" for Slamp is a light sculpture that evokes architectural abstracts, art, dance and movement. Its design is based on Wilson's general approach, "the reduction of languages to the minimal structure of their complexity", (Achille Bonito Oliva, "Space Time" - SilvanaEditoriale, 2014). The result is completely abstract and non-interpretive, leaving the onlooker to associate their private, imaginative world.
The eight handmade light prototypes were created together with Wilson over a period that began in September of 2015, and continues today through a constant dialogue between the visionary theatre producer and the fresh energies of the leading Italian lighting company, Slamp. The prototypes are choreographed to create a singular, unique haunting landscape, specifically designed for the Watermill's 23rd annual auction.
The "La Traviata" has a central acrylic structure (serving as the primary light source, diffusing the light with a LED system featuring CRI 90, the most similar to the colour temperature of the sun), and a series of Lenfiflex® arrows, which contain LED RGB modules. The lighting sculpture's colour and intensity can be regulated and personalized using the remote control, a brass replica of the work's external arrows, etched with Wilson's hand-designed La Traviata logo.
www.robertwilson.slamp.com
Dimensions variable. Expected delivery date for prototypes: September, 2016.
Please note: After bidding closes on Artsy, bids on this piece will be transferred and executed at the live auction component of The Watermill Center Summer Benefit and Auction on the evening of July 30, 2016.
Image rights: Courtesy of the artist and Slamp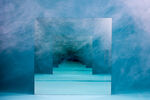 About Robert Wilson
Robert Wilson has worked as everything from a choreographer, performer, painter, and sculptor, to a video artist and sound and lighting designer, as well as having collaborated with icons like William S. Burroughs, Lou Reed, and Marina Abramović. Working with light, movement, and design, Wilson has created an original aesthetic that has brought him recognition as an avant-garde theater artist. Wilson founded the Watermill Center in 1992, as a space for young and emerging artists from around the world to practice new ideas. His "Living Rooms" exhibition, presented at the Musee de Louvre in Paris from November 2013 through February 2014, showcased the inspiring environment of the Watermill Center, with objects including statuettes, ethnic masks, ceramics, shoes, and other found items that convey his creative processes.
American, b. 1941, Waco, Texas, based in New York, New York
Solo Shows
1992
Kamakura Gallery,
Ginza, Chuo, Tokyo, Japan,
Einstein on the Beach
Group Shows
1984
Museum of Modern Art,
New York, NY, USA,
An International Survey of Recent Painting and Scultpure
Fair History on Artsy