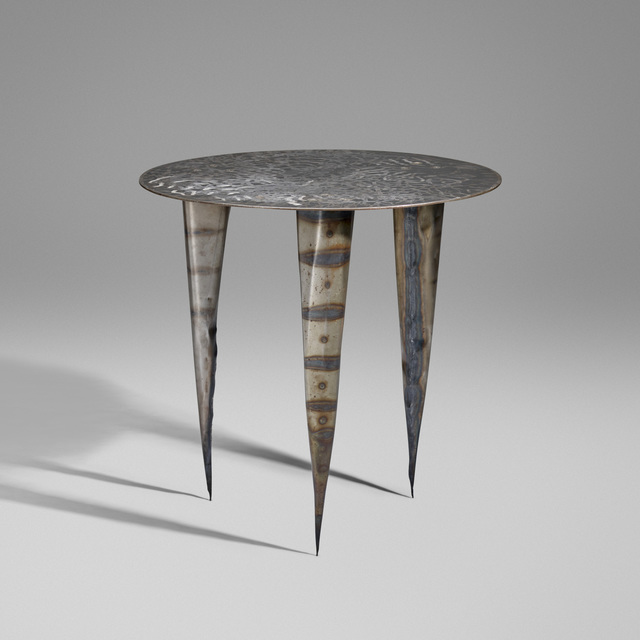 Cone Cafe Table, 1986
Welded and textured steel
Dimensions: 30 dia x 29.25 h in (76 x 74 cm)
This work is unique.
United Kingdom
Though associated with high-tech design, Ron Arad's multi-decade career goes back to pre-digital days. Some of his earliest pieces, like hand-wrought chairs, are obviously handcrafted and retain all the traces of small-scale production. Often working in steel, Arad now capitalizes on new technology—remote controlling his own designs and fabricating Bluetooth-enabled furniture. In 2005, he designed crystal chandeliers for Swarovski that display text messages in LED lights. Arad is responsible for, among other spaces, the technology floor at Selfridge's in London and a Yohji Yamamoto boutique in Tokyo. "Boredom," says Arad, "is the mother of creativity."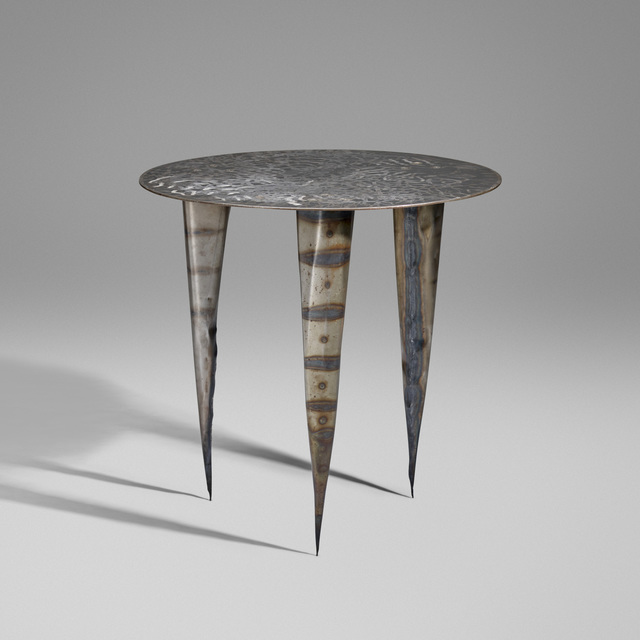 Dimensions: 30 dia x 29.25 h in (76 x 74 cm)
This work is unique.
United Kingdom
Though associated with high-tech design, Ron Arad's multi-decade career goes back to pre-digital days. Some of his earliest pieces, like hand-wrought chairs, are obviously handcrafted and retain all the traces of small-scale production. Often working in steel, Arad now capitalizes on new technology—remote controlling his own designs and fabricating Bluetooth-enabled furniture. In 2005, he designed crystal chandeliers for Swarovski that display text messages in LED lights. Arad is responsible for, among other spaces, the technology floor at Selfridge's in London and a Yohji Yamamoto boutique in Tokyo. "Boredom," says Arad, "is the mother of creativity."
Cone Cafe Table, 1986
Welded and textured steel