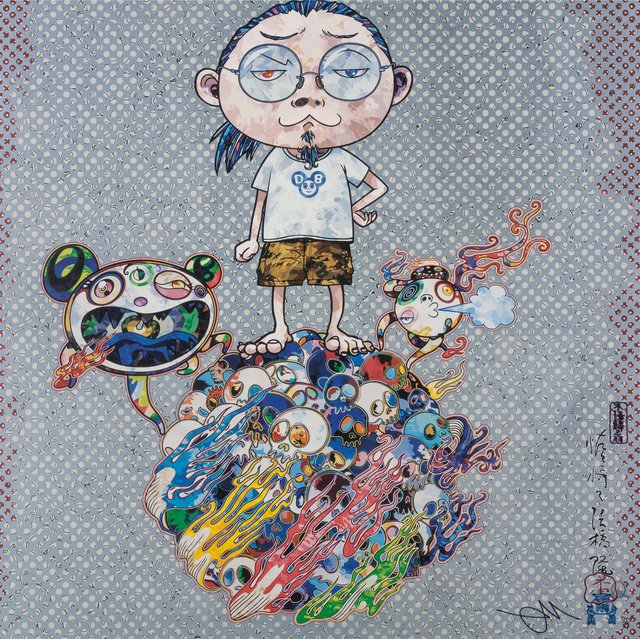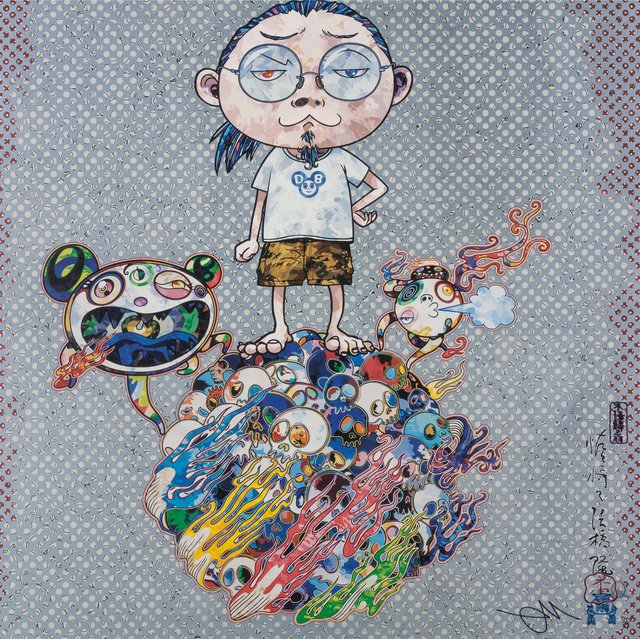 Kaikai, Kiki, and Me and Mr. DOB Comes to Play His Flute (two works), 2013
Offset lithographs in colors on wove paper
19 5/8 × 19 5/8 in
49.8 × 49.8 cm
Editions 36/300; Ed. 35/300.
Editions 36/300; Ed. 35/300.
Each signed and numbered in ink lower right
Co-published by the artist and Kaikai Kiki & Co. Ltd, Tokyo
Courtesy of Heritage Auctions
One of the most acclaimed artists to emerge from postwar Asia, Takashi Murakami—"the Warhol of Japan"—is known for his contemporary Pop synthesis of fine art and popular culture, particularly his use of a boldly graphic and colorful anime and manga cartoon style. Murakami became famous in the 1990s for his "Superflat" theory and for organizing the paradigmatic exhibition of that title, which linked the origins of contemporary Japanese visual culture to historical Japanese art. His output includes paintings, sculptures, drawings, animations, and collaborations with brands such as Louis Vuitton. "Japanese people accept that art and commerce will be blended; and in fact, they are surprised by the rigid and pretentious Western hierarchy of "high art'," Murakami says. "In the West, it certainly is dangerous to blend the two because people will throw all sorts of stones. But that's okay—I'm ready with my hard hat."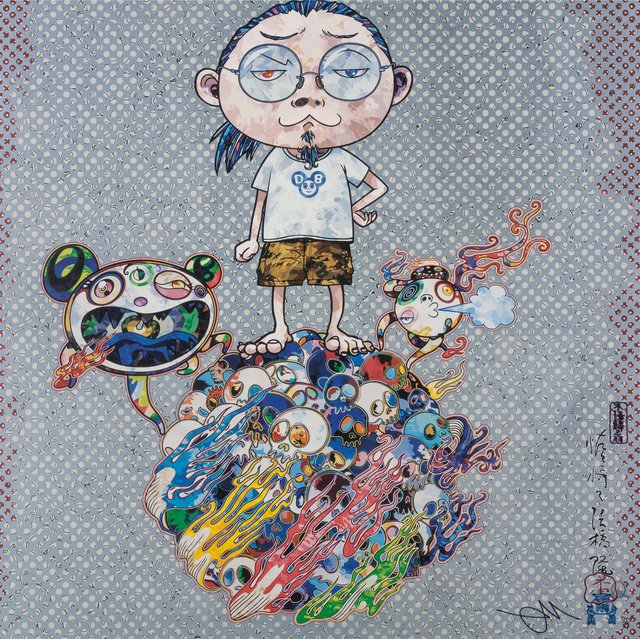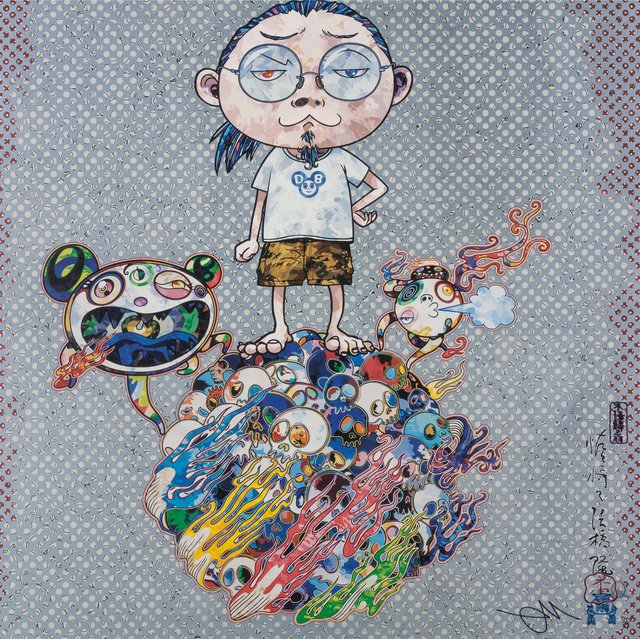 Editions 36/300; Ed. 35/300.
Editions 36/300; Ed. 35/300.
Each signed and numbered in ink lower right
Co-published by the artist and Kaikai Kiki & Co. Ltd, Tokyo
Courtesy of Heritage Auctions
One of the most acclaimed artists to emerge from postwar Asia, Takashi Murakami—"the Warhol of Japan"—is known for his contemporary Pop synthesis of fine art and popular culture, particularly his use of a boldly graphic and colorful anime and manga cartoon style. Murakami became famous in the 1990s for his "Superflat" theory and for organizing the paradigmatic exhibition of that title, which linked the origins of contemporary Japanese visual culture to historical Japanese art. His output includes paintings, sculptures, drawings, animations, and collaborations with brands such as Louis Vuitton. "Japanese people accept that art and commerce will be blended; and in fact, they are surprised by the rigid and pretentious Western hierarchy of "high art'," Murakami says. "In the West, it certainly is dangerous to blend the two because people will throw all sorts of stones. But that's okay—I'm ready with my hard hat."
Kaikai, Kiki, and Me and Mr. DOB Comes to Play His Flute (two works), 2013
Offset lithographs in colors on wove paper
19 5/8 × 19 5/8 in
49.8 × 49.8 cm