In need of the sperm of a whale oil, known for its anti-wrinkle properties? One can find the precious substance in the Purse of Wonders, as well as other wonders, such as lipstick, drug paraphernalia, a wedding ring, and a crystal ball to predict the near future.
3d printed nylon. Selective laser sintering method.
Dimensions: 30x35x14cm (closed), 80x66 cm (open)
Signature: Printed in the nylon ATN 2011 Nr (7) 0001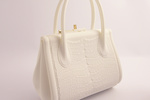 About Ted Noten
Since 2005, Dutch jewelry designer Ted Noten has broadened his repertoire to include furniture and art installations. His eponymous Amsterdam atelier (abbreviated ATN) is beloved worldwide for its wry and irreverent design objects. The four-person team has produced everything from a brass "self-portrait ring" to a brooch cast from a wad of chewing gum sent in by a client. Many of ATN's designs subvert the appearance and context of luxury goods, like acrylic designer bags with treasures (pistols, lizards, rings) trapped inside.
Dutch, b. 1956, based in Amsterdam, Netherlands
Fair History on Artsy