This lot is sold with no reserve.
Height. 40 1/2 in. (102.9 cm)
Diameter. 2 7/8 in. (7.3 cm)
From the Specialists:
Tom Friedman, a conceptual sculptor, manipulates mundane, everyday materials, in precise and delicate ways to create objects of stunning beauty. In Untitled, Friedman has formed a soaring tower of Styrofoam cups painted in a progressing scale of lighter to darker gray tones creating an almost infinite, monumental totem.
—Courtesy of Phillips
Signature: Signed and numbered 'XVIII/XX' in black ink on the underside (an artist's proof, the edition was 75), published by Parkett Editions, Zurich and New York.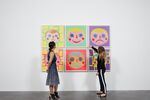 About Tom Friedman
Tom Friedman's sculpture is recognizable for its highly inventive and idiosyncratic use of materials like Styrofoam, foil, paper, clay, wire, plastic, hair, and fuzz. Working autobiographically, Friedman uses painstaking, labor-intensive methods to recreate seemingly random elements from his life. In each piece, he pays obsessive attention to detail, particularly in the replication of the objects that surround him. In Untitled (Bouquet) (2010), random objects appear to balance precariously on top of a studio crate, but the crate is actually made from Styrofoam and painted to look like a crate. "Art, for me, is a context to slow the viewer's experience from their everyday life in order to think about things they haven't thought about," Friedman explains. "Or to think in a new way."
American, b. 1965, St. Louis, Missouri, based in Leverett, Massachusetts