This Teke mask is called « Kidumu ». This one still has its original polychromy and its geometric patterns are particularly well carved. The patina and the sculpture reflects the ritual use of the object.
It is one of the rarest African masks. We know twenty of them in the world. This mask is one of the finest examples we know.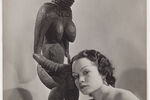 Formerly in a French collection. Collected in the 1910's by a French missionary.