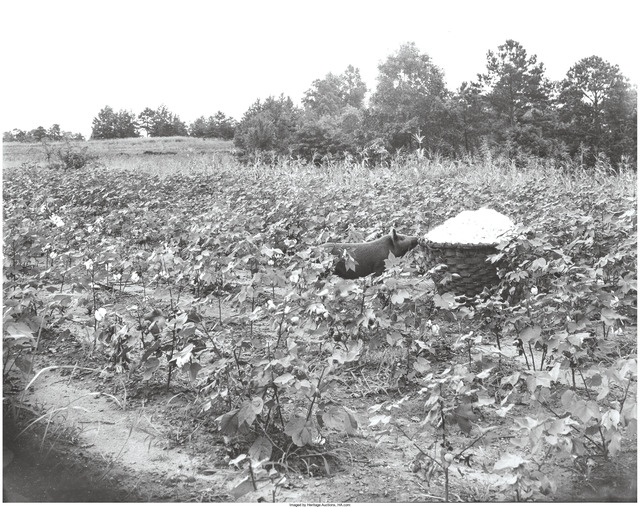 Pig in a cotton field, Alabama, 1936
Gelatin silver, printed later
7 3/4 × 9 3/4 in
19.7 × 24.8 cm
Condition Report: Cornered in to a window mat; a few small spots of possible retouching; upper left …
The photographer's stamp on verso.
Courtesy of Heritage Auctions
Few images capture a moment in American history as clearly as Walker Evans' groundbreaking 1938 monograph American Photographs and his 1941 collaboration with author James Agee, Let Us Now Praise Famous Men. A pioneer of documentary photography, Evans catalogued the essence of 20th century America in his photographs of Main Streets, churches, factories, and New York City commuters, whom he shot by hiding a 35mm Contax camera underneath his coat. Toward the end of his long career, the two-time Guggenheim Fellow began experimenting with the color Polaroid SX-70. His groundbreaking work influenced generations of photographers, including Robert Frank, Diane Arbus, and Lee Friedlander, and served as source material for Sherrie Levine's conceptual appropriations. Photography, Evans once said, "is the capture and projection of the delights of seeing; it is the defining of observation full and felt."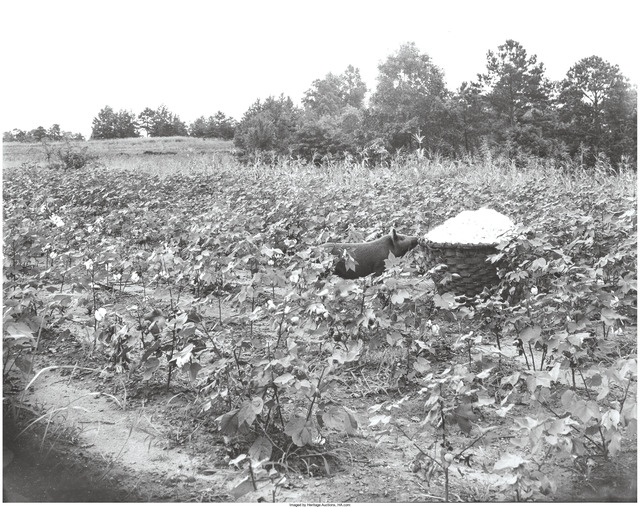 Condition Report: Cornered in to a window mat; a few small spots of possible retouching; upper left corner is lightly bumped. Framed Dimensions 16.75 X 18.75 Inches
The photographer's stamp on verso.
Courtesy of Heritage Auctions
Few images capture a moment in American history as clearly as Walker Evans' groundbreaking 1938 monograph American Photographs and his 1941 collaboration with author James Agee, Let Us Now Praise Famous Men. A pioneer of documentary photography, Evans catalogued the essence of 20th century America in his photographs of Main Streets, churches, factories, and New York City commuters, whom he shot by hiding a 35mm Contax camera underneath his coat. Toward the end of his long career, the two-time Guggenheim Fellow began experimenting with the color Polaroid SX-70. His groundbreaking work influenced generations of photographers, including Robert Frank, Diane Arbus, and Lee Friedlander, and served as source material for Sherrie Levine's conceptual appropriations. Photography, Evans once said, "is the capture and projection of the delights of seeing; it is the defining of observation full and felt."
Pig in a cotton field, Alabama, 1936
Gelatin silver, printed later
7 3/4 × 9 3/4 in
19.7 × 24.8 cm