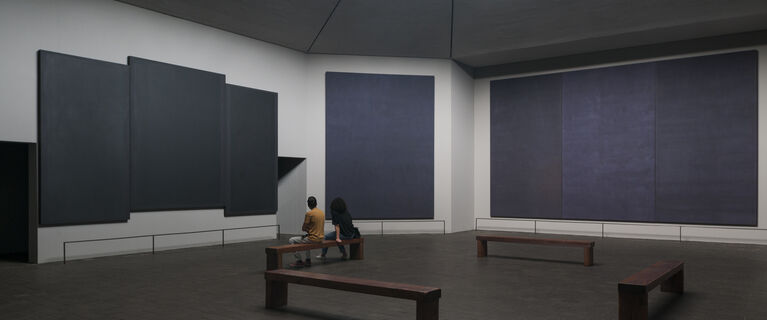 Rothko Chapel: Curated by Barbara Davis Gallery, 50th Anniversary Benefit Auction 2021
The Rothko Chapel's mission is to create opportunities for spiritual growth and dialogue that illuminate our shared humanity and inspire action leading to a world in which all are treated with dignity and respect. Fifty years ago, art patrons Dominique and John de Menil commissioned Mark Rothko to create an intimate sanctuary where art and architecture work in harmony to welcome people from all walks of life, a sacred space where art invites contemplation and serves as a gateway to the Divine. The Rothko Chapel is a spiritual space, a forum for world leaders, a place for solitude and gathering. Proceeds from the 50th Anniversary Gala and this auction support the Chapel's daily operations and its work in championing human rights and the struggle for justice through programs that foster mutual understanding and inspire action while effecting social change. To learn more, visit rothkochapel.org.
The Rothko Chapel 50th Anniversary Benefit Auction is curated by Barbara Davis, who for nearly 40 years has brought groundbreaking art to Houston—championing a generation of significant contemporary artists and challenging both seasoned and aspiring art collectors in the process through discussions with leading curators and artists from across genres. She has launched the careers of international artists such as Julie Mehretu, one of the most important contemporary artists of our time, and Mie Olise Kjærgaard, a rising star from Denmark discovered in a Saatchi Sensations exhibition, having given Mehretu her first gallery exhibition and Olise her first U.S. exhibition. The gallery's exhibitions have been reviewed in publications such as ArtForum, Art in America, Art News, Flash Art International, The Art Economist, and The New York Times among many others. To learn more about the gallery's program visit barbaradavisgallery.com.
Bidding is open exclusively on Artsy and will close on Saturday, November 6th at 9pm CDT (10pm EDT).
Contact Us
+1-845-582-3967