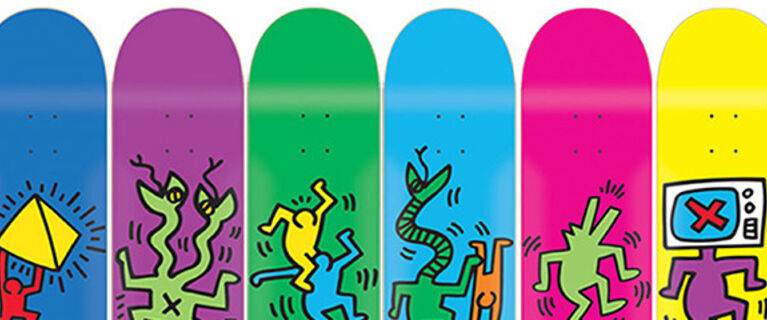 Keith Haring, Set of 10, 2012. Courtesy of EHC Fine Art.
Artist Skateboard Decks
In the early 1970s, skate culture and street art became deeply intertwined, and a new medium for artists was born: the skate deck. In earlier days, when skateboarding was still a subculture on the fringe, simply being a skater was enough to set oneself apart from the crowd. However, the growing popularity of the sport pushed many creative skaters to find ways to individualize their boards. Borrowing from motifs and styles popularized by graffiti artists, skaters designed the undersides of their boards as extensions of themselves. In the decades since, fine art, street art, and skate culture have become inseparable, with renowned artists like Keith Haring, Shepard Fairey, Yayoi Kusama, and Yoshitomo Nara reproducing some of their most …
Featured Artists
After Andy Warhol X The Skateroom
After Jean-Michel Basquiat
After Jean-Michel Basquiat X The Skateroom
This is based on the artwork's average dimension.
Alpha 137 Gallery Gallery Auction