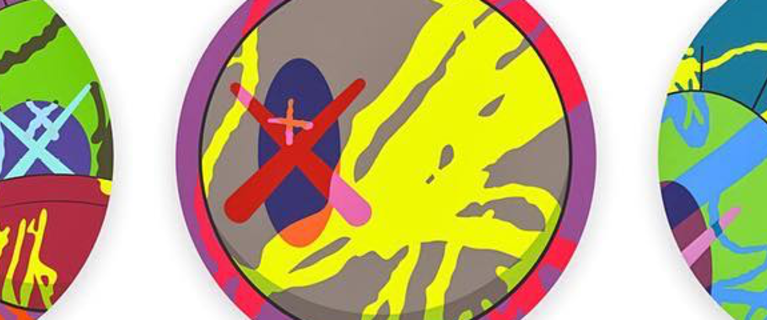 KAWS, The News (portfolio of nine works), 2018. Courtesy of MSP Modern.
KAWS x Pace Prints for Art Basel Miami Beach
Since 2015, KAWS and Pace Prints have collaborated to release highly-anticipated limited edition prints to celebrate the art fair Art Basel Miami Beach. The prints—which sell out immediately in a tiered pricing system tied to the print's edition number—capture the street artist's iconic, vibrant aesthetic, mashing together deconstructed bits and pieces of childhood cartoons like Mickey Mouse, Snoopy, and SpongeBob—and KAWS's own snake-like signature character, Bendy. The 2015 fair gave collectors the opportunity to snap up three prints depicting Snoopy titled No One's Home, Stay Steady, and The Things That Comfort. In 2016, the duo released a playful dolphin print titled, Piranhas When You're Sleeping. Finally, in 2017 and 2018, KAWS …
This is based on the artwork's average dimension.