A Japanese art museum has been turning away curious cats for two years.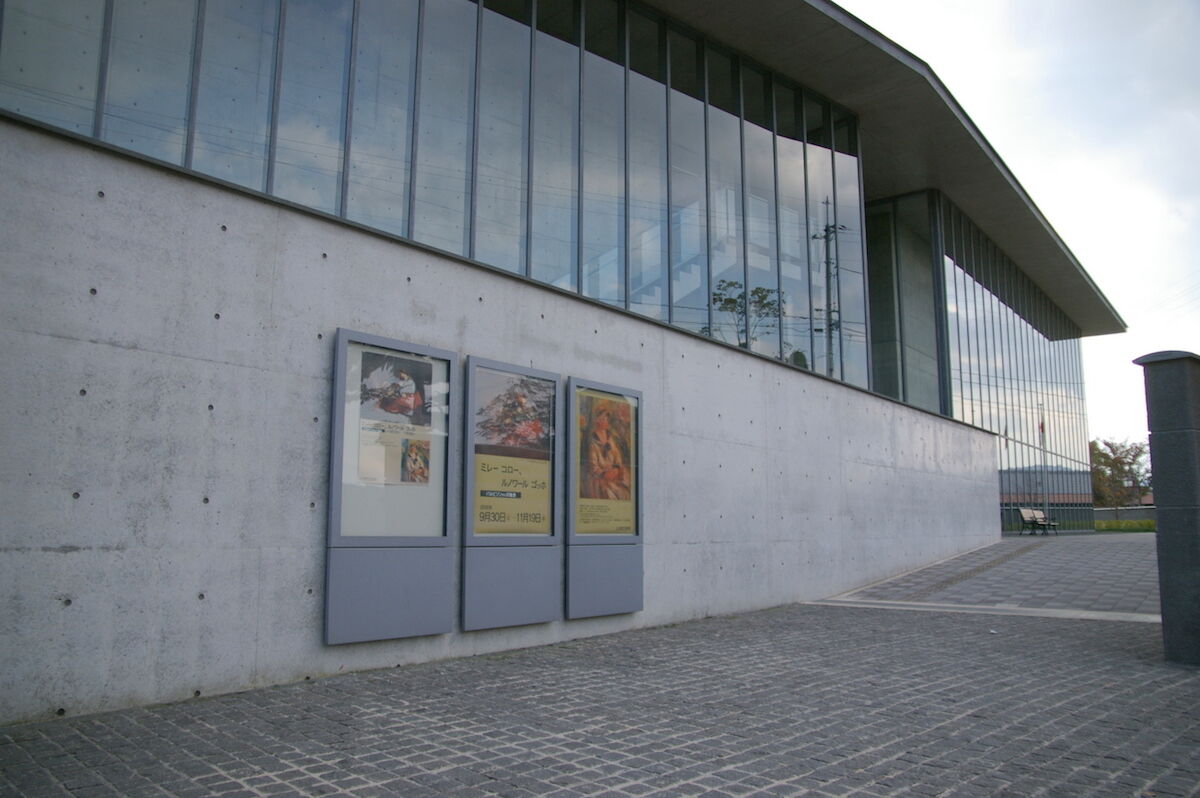 The Onomichi City Museum of Art. Photo by OS6 via Wikimedia Commons.
One purr-sistent feline has been attempting to enter the Onomichi City Museum of Art in Japan's Hiroshima Prefecture for two years now, and videos of guards gently shooing him and his friend away have recently gone viral. It all began in the summer of 2016, when the wiley black cat Ken-chan, as the staff has taken to calling him, was piqued by a particularly tantalizing exhibit.
"I'm guessing that Ken-chan spotted some of the exhibits through the glass, and since the photos included those of black cats, he must have thought he had found a new friend," Shinji Umebayashi, the museum's curator, told The Guardian. "And then he just kept coming back."
Descendants of a Jewish dealer hired art detectives to track down a Nazi-looted Degas.
Edgar Degas, Portrait of Mlle. Gabrielle Diot, 1890. Photo courtesy Art Recovery International.
Have you seen this Degas? Portrait of Mlle. Gabrielle Diot (1890) once hung above the desk of Paul Rosenberg, whose art gallery had exclusive dealings with Pablo Picasso (whom he gave the nickname "Pic"), Henri Matisse, and Georges Braque, but in 1940 it was confiscated by the Nazis along with scores of other works.
Over three generations, the Rosenbergs have recovered all but 60 of the 400 works taken by the Nazis. The pastel portrait by Edgar Degas has narrowly eluded restitution due to allegedly uncooperative gallerists, so the family has hired London-based art detectives to crack the case.
"It has been completely frustrating," Marianne Rosenberg, Paul's granddaughter and an art dealer herself, told the New York Times. "Something appears, then it disappears again and you lose it for another 20 years."
Not much is known about the painting's whereabouts. In 1974, in was acquired by a Swiss buyer. The Rosenbergs were in the dark about its whereabouts until 1987, when Paul's daughter-in-law, Elaine Rosenberg, happened upon it in a catalogue of works held by Hamburg art dealer Mathias Hans. When Elaine rang up Hans, the phone call did not go well; he said confidentiality prevented him from disclosing its owner and that if she wanted it back, she should buy it for €3 million ($4.6 million) . When she refused, he said the family would never get it back.
"We are not willing to forget, or let it go," Marianne Rosenberg said in 2013 as the family was negotiating the return of Matisse's Woman in Blue in Front of Fireplace (1937). "I think of it as a crusade."
Women Old Master artists will be the focus of Sotheby's sales in early 2019.
Angelica Kauffmann, Portrait Of Lady Georgiana Spencer, Henrietta Spencer And George Viscount Althorp. Est. $600,000–800,000. Courtesy Sotheby's.
Sotheby's has sold works by 1,100 male Old Master artists, but only 14 female Old Masters so far in 2018. But the category's gender balance in 2019 is poised to look quite different. The auction house is planning a curated selection of paintings, sculptures, and drawings by female Old Masters for its Masters Week sales in late January and early February.
Thus far it has revealed that works by the Milanese-born Renaissance painter Fede Galizia, the Swiss Neoclassical painter Angelica Kauffmann, the celebrated French portrait painter Élisabeth Louise Vigée-Le Brun, and the Italian, Czech-born painter Antonietta Brandeis will be included in the sale dubbed "The Female Triumphant." The Galizia, a still life, is expected to fetch between $2 million and $3 million, and the playful group portrait painting by Kauffmann has been estimated at $600,000 to $800,000.
In a statement, Calvine Harvey, a specialist in Sotheby's Old Master Paintings Department in New York, said:
An artist will whitewash a Banksy mural to protest the buying and selling of street art.
Ron English standing in front of a Banksy mural he recently bought and plans to whitewash as an act of protest. Photo by Barbara Davidson/Getty Images.
U.S. street artist Ron English just bought a Banksy for $730,000 and is planning to whitewash it in protest of the market's co-opting of street art.
"We're tired of people stealing our stuff off the streets and reselling it so I'm just going to buy everything I can get my hands on and whitewash it," English told the Press Association. Elaborating on his plans for the Banksy, he added: "I'm going to paint over it and just include it in one of the walls in my house."
The Banksy work in question is a mural titled Slave Labour (Bunting Boy) (2012) that the secretive British street artist painted on the exterior of a store in north London in 2012. Shortly thereafter it was removed, wall and all. The mural depicts a young boy working at a sewing machine, cranking out bunting featuring the British flag—which is rendered not in paint, but as a plastic, store-bought decoration. English bought it at a street and contemporary art sale at Julien's Auctions in Los Angeles on Wednesday.
English's planned anti-market stunt comes more than a month after Banksy's own anti-market coup, when his Girl With Balloon (2006) partially shredded itself at Sotheby's in London. That work, which may have been left half-intact by a malfunctioning shredder concealed in its frame, was subsequently deemed a new work and retitled Love is in the Bin (2018).
English has not indicated any plans to retitle his Banksy after painting over it. His protest act may be intended as an homage to the time Robert Rauschenberg infamously erased a Willem de Kooning drawing.
Photojournalist Shahidul Alam was granted bail after being in jail for more than 100 days.
Shahidul Alam ini 2011. Photo by Kris Krüg for PopTech, via Wikimedia Commons.
After more than 100 days in jail, Shahidul Alam, the acclaimed 63-year-old photographer and social activist, has been granted bail by Bangladesh's High Court.
Alam was arrested, though not charged, on August 5th after criticizing the Bangladeshi government. The case was filed under the dubious Information and Communication Technology Act, which claimed he spread "propaganda and false information" after he gave an interview to Al Jazeera in response to student protestors' concerns about road safety.
In the aftermath of his arrest, a slew of rallies and letter-writing campaigns around the world called for his release. Alam's lawyer told Al Jazeera that she is optimistic that the photographer will be released by Sunday.
"I hope journalists, photographers, and academics will launch a united struggle for repealing undemocratic provisions of Digital Security Act [under which Alam was jailed]," Rahnuma Ahmed, Alam's wife, said.
New Michelangelo bronzes were identified by the figures' distinctly cut ten-pack abs.
Two bronze statues named Bacchants Riding On Panthers, thought to be by Italian Renaissance master Michelangelo, are displayed at the Fitzwilliam Museum in Cambridge on February 2, 2015. Photo by Jack Taylor/AFP/Getty Images.
It's no secret that the Renaissance artist Michelangelo was a master of sculpting the well-muscled male form—have you seen the guns on David? In Michelangelo's mind, even Moses, in a sculpture at the church of San Pietro in Vincoli in Rome, is packing some serious heat.
So it's not too surprising that, if one has to confirm that two bronzes were made by the hand of Michelangelo, the first things to look for are finely cut eight-pack, or even ten-pack, abs. That's how an international team lead by the University of Cambridge finally confirmed after four years of research that two bronzes sold at Sotheby's in 2002 for £1,821,650 with dubious attribution were truly bonafide Michelangelo bronzes—the only known surviving bronzes that he cast. As the BBC put it, these bronzes could now be worth "hundreds of millions."
And what do the private collectors in London who own these works have to thank for this windfall? The artist's devotion to portraying male figures as 100% USDA-approved slabs of beefcake awesomeness. The key details to making the call that these are true Michelangelos, said Victoria Avery, Keeper of Applied Arts at the Fitzwilliam Museum, were the "anatomical features which were specific to him"—specifically "an extra tendinous intersection, which is in fact a band of fibrous tissue that converts a six-pack into an eight or a ten-pack."
The works, which portray two nude men riding panthers while rocking—and I think this bears repeating—ten-pack abs, were also confirmed due to the artist's habit of giving men bulging thigh and calf muscles. (Thirty letters written to his family around the time of the creation of the works also helped, but that's not quite as sexy, now is it?)
Hot dudes aside, it's clear this is a major discovery, and one that sheds new light on a somewhat neglected part of Michelangelo's practice.
Avery added: