At Art Brussels, sales showed collector demand for works in the four- and five-figure range.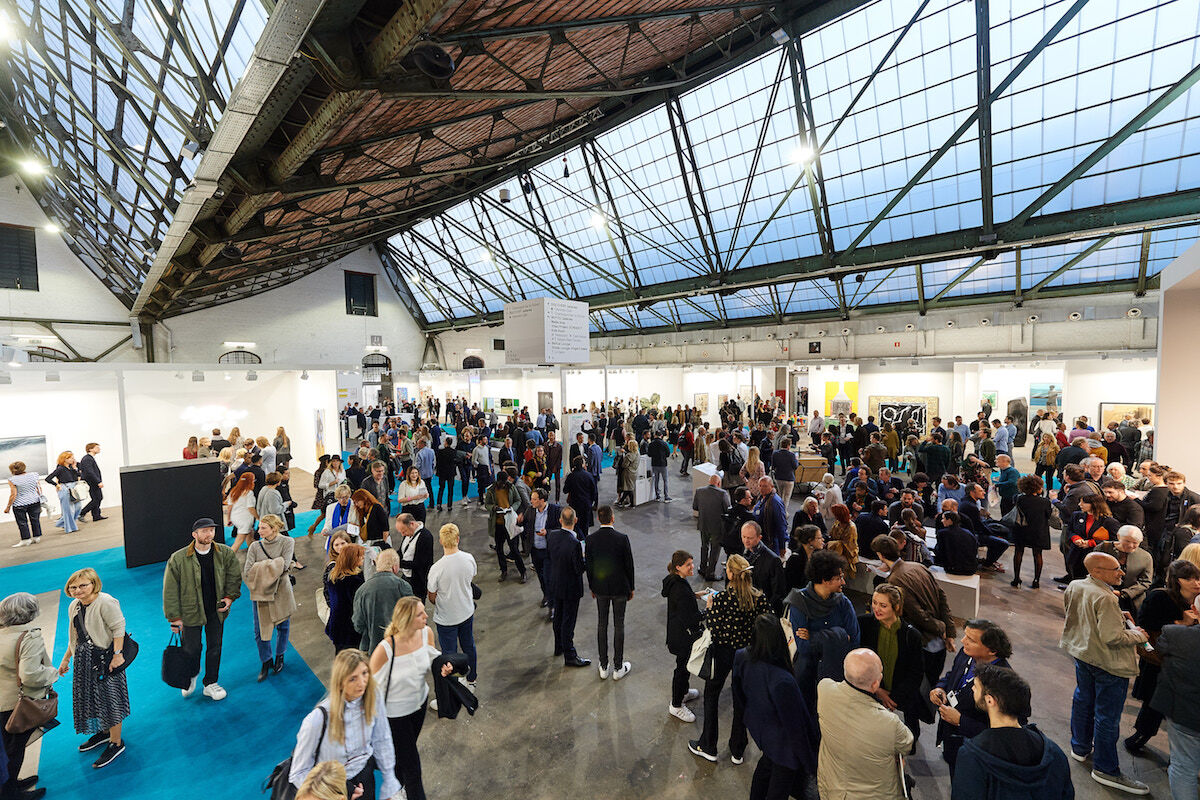 The 37th edition of Art Brussels closed on Sunday, with a total of 25,473 visitors passing through its aisles over a four-day run. In addition to major collectors such as London-based Muriel Salem, the Danish mega-collector Leif Djurhuus, New Yorkers Susan and Michael Hort, and Belgium's own Alain Servais, the fair drew representatives from a bevvy of European institutions such as the Centre Pompidou, Jeu de Paume, and the Louvre in Paris, the Stedelijk Museum in Amsterdam, and the Hamburger Kunsthalle. The fair's 148 participating galleries reported a slew of sales, primarily in the four- and five-figure range.
In the fair's main section, dubbed Prime, sales included:
Brussels-based outfit Harlan Levey Projects sold 20 works spanning all six artists shown in their booth, including Emmanuel Van der Auwera, which the gallery showed in the fair's Solo section.
Another Brussels gallery, Rodolphe Janssen, had a strong showing, with sales of works for between €6,000 and €55,000 ($6,700 and $61,400), including four pieces by Thomas Lerooy and works Louisa Gagliardi, Douglas Eynon, Marcel Berlanger, Betty Tompkins, and Gert & Uwe Tobias. It also sold out of works it was offering by the Belgian painter Sanam Khatibi.
Mendes Wood DM, the São Paulo-headquartered gallery that now has outposts in New York and Bruseels, sold works by Daniel Steegmann Mangrané in the price range of $6,000 to $35,000, and pieces by Neïl Beloufa.
The British gallery New Art Centre reported selling a Henry Moore tapestry to a top European collection, but did not specify the price.
Nathalie Obadia, who operates spaces in both Brussels and Paris, found success with works by Laure Prouvost, who is representing France at this year's Venice Biennale. Obadia sold two Laure Prouvost paintings that had been priced between €25,000 and €35,000 ($27,900 and $39,000) as well as a few tapestries by Prouvost, priced between €25,000 and €85,000 ($27,900 and $94,900).
Blain | Southern, which just added a New York space to its locations in London and Berlin, sold several works in the range of $35,00 to $200,000, including a work by Jonas Burgert.
Brussels gallery Xavier Hufkens reported an unspecified number of sales from its solo booth of works by Lesley Vance, who was awarded the fair's SOLO Prize.
Ghent-based gallery Kristof De Clercq sold 20 works at the fair, including pieces by Mario De Brabandere and Johan De Wit, but did not disclose prices.
Paris's Semiose sold out of its solo booth of works by Amélie Bertrand, priced between €2,500 and €14,000 ($2,800 and $15,600), on the first day of the fair.
Also on the fair's first day, Belgian gallery Patrick de Brock sold several works by Ethan Cook in the range of €22,000 to €36,000 ($24,500 and $40,200).
Antwerp-based KETELEER Gallery also got off to a strong start, selling 15 works in the fair's first day.
The gallery Ceysson & Bénétière, which has spaces in Paris, New York, Luxembourg, and Saint-Etienne, sold pieces by Claude Viallat in the €15,000 to €40,000 ($16,750 to $44,600) range, works by the French artist duo of Florian Pugnaire and David Raffini for €6,500 ($7,250) and €7,500 ($8,370), and five works by Lionel Sabatté.
The Swiss gallery Ditesheim & Maffei Fine Art sold an entire Heimo Zobernig series consisting of 15 works for unspecified prices.
Maruani Mercier, which operates spaces in three Belgian cities, sold out its solo booth of works by Jaclyn Conley, which had been priced between €2,500 and €20,000 ($2,800 and $22,300). After rehanging its booth, it sold additional works, including a piece by Arne Quinze for around €50,000 ($55,800).
Antwerp-based gallery Zeno X sold works by artists including Mircea Suciu, Mark Manders, Paulo Monteiro, Marina Rheingantz, and Anne-Mie Van Kerckhoven, but did not specify prices.
Galerie Transit found buyers for works by Jenny Watson and Tom Polo.
New York's The Hole sold out its solo booth of works by Jonathan Chapline in the range of $4,000 to $30,000, as well as selling works by Alex Gardner and Eric Shaw.
Belgian gallery Nadja Vilenne reported its best Art Brussels outing in its decade of participating in the fair, including selling three large works—two of them to major institutions.
Seoul gallery Hakgojae, which was at Art Brussels for the first time, sold all eight works from Kim Hyunsik's "Who Likes. . ." series.
New York's Marc Straus said it notched six sales in the first hour of Art Brussels preview. Its sales from the fair included four works by Sandro Chia priced at $4,800, a work by Michael Brown priced at $25,000, and three pieces by Paul Pretzer ranging from $5,000 to $7,000.
London's Vigo Gallery sold works by Daniel Crews-Chubb, including one for $15,000 and another for $31,000.
Another London outfit, Repetto, said it sold works by Lucio Fontana, Fausto Melotti, and Alessandro Piangiamore.
Seoul-based Baton sold works by Koen van den Broek, Bin Woo Hyuk, and Liam Gillick.
Brussels-based Greta Meert sold works by Katinka Bock in the range of €18,000 to €22,000 ($21,000 to $24,500) and works by Pieter Vermeersch in the range of €15,000 to €70,000 ($16,750 to $78,000).
In the fair's Discovery section for recent works by young and emerging artists, sales included:
Brussels gallery Spazio Nobile sold abstract tapestries by Kustaa Saksi for €13,400 ($14,960) and ceramic work by Bela Silva for between €4,500 and €18,000 ($5,000 and $20,100).
Stems, which operates spaces in Brussels and Luxembourg, sold out its entire booth of works by the American painter Tajh Rust, with works priced in the €6,000 to €9,000 ($6,700 to $10,000) range.
Amsterdam gallery Tegenboschvanvreden won the fair's Discovery Prize and sold works from its booth in the range of €6,500 to €12,000 ($7,400 to 13,400), including one piece to collector Alain Servais.
Portugal's Lehmann+Silva sold out its solo booth of works by Joáo Gabriel on the fair's preview day.
Similarly, Paris gallery Derouillon had sold out its entire booth by the afternoon of the fair's second day.
Brussels-based Dauwens & Beernaert placed two works by Karl Philips with the Vanhaerents Art Collection.
In the fair's newly launched Invited section for younger galleries exploring different business models, the itinerant Zurich-based Counter Space sold six works by Antoinette d'Ansembourg in the range of €1,300 ($1,450). Also in the Invited section, London-based dealer Alice Black, who was participating in a fair for the first time since opening her gallery in May 2017, made several sales. In a statement, Black noted: "our participation paid off, [. . .] the collectors at Art Brussels are decisive, knowledgeable, and their approach is well thought through, the work is really appreciated."