DELEGATET
Concept & Choreography by BRIGEL GJOKA | Music by ARNE STEVENS | Premiere: April 14, 2016 Theater Vorpommern, Germany
Apr 14th – Jun 18th 2016
New York, 111 Eighth Avenue
Map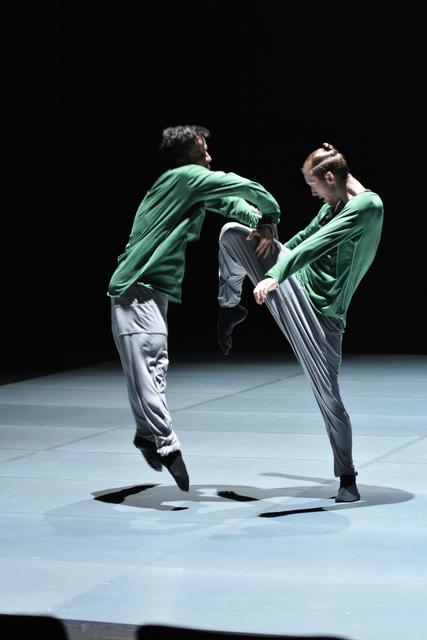 Press Release
At the core of Brigel Gjoka's choreography is humanity, and all of us are its delegates or representatives.
"Delegatet" is Albanian and it means "Delegate". In his new creation, inspired and influenced by the energetic Albanian folklore, Gjoka brings the joy, happiness, and love through music and dance. We live in the present of a migrated past that have broken all self-imposed borders.
Individuals have created tribes, tribes that live life with full passion. Over time, those tribes have created its own systems – religions, ideological, or states. Delegatet looks toward humanity as a deputy, on the mission but always part of a tribe. Although we all belong to the same tribe and have the same basic needs , but at the same time each of us is unique and has his own peculiar ideas of happiness . So humanity has no choice but to keep on the journey, to migrate and seek ...
BIOGRAPHY
Brigel Gjoka is a professional stage dancer, teacher and choreographer based in Germany. Gjoka has joined the Albanian Institute as choreographer & artistic curator at large since 2015. Born in Albania, he was trained in Tirana Ballet School (1997- 2004), following he's studies at Rosella Hightower in Cannes where he was a member of Cannes Jeune Ballet. In 2006 he became part of the Ballet De L'Opera National Du Rhin, where he had the opportunity to perform different roles and work with choreographers from the international dance scene. Wanting to expend he's vision he joined Staatstheater Mainz in 2009 for one season, then in 2010 Nederlands Dans Theater. January 2011 he became member of the The Forsythe Company, where he participated on new creations and also performed a wide range of William Forsythe's repertory until the closure of the company August 2015.
As an unique experience in 2015 he was part of " Life in Progress " production, traveling and perfoming around the world DUO from William Forsythe, on the farewell world tour of Sylvie Guillem.
He got awarded with "Leonide Massine " in Positano premia la danza Italy September 2015, as Dancer of The Year on The Contemporary Dance Scene. As a lecturer teacher, Gjoka worked in Italy, Switzerland, Greece, Albania ,Germany, Malaysia , China, Singapour, Australia, Japan, . He taught dance and choreography workshops based and inspired on the long rich investment of William Forsythe and The Forsythe Company.
Follow Artists In This Show