SURVIVOR (F) + Power Station Dresses For Space Travel (2018)
Jul 7th
London, Battersea Power Station 188 Kirtling Street
Map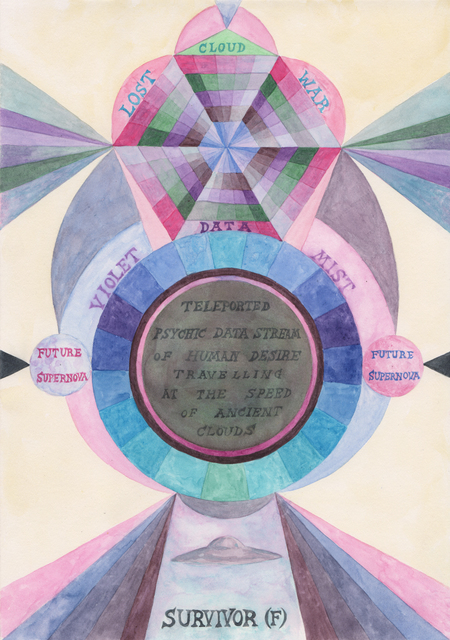 Press Release
Suzanne Treister's site-specific commission appears on the hoardings around Battersea Power Station at the newly opened stretch of riverfront in Circus West Village. Watercolours from Treister's SURVIVOR (F) project (2016-ongoing) are combined with images of the power station's iconic chimneys in a new 80 meter long mural.
As the power station is poised to begin a new chapter in its history, Treister's project reflects on technological advancement and the ruins of older technologies left in its wake. Her watercolours incorporate imagery and slogans that recall the futurism of the pre-internet era, but references to clouds, algorithms and a sky 'the colour of the death of the internet' position the work as a psychedelic prophecy, evoking what Treister describes as the 'post-futuristic sublime'.
With a band of blue forming its upper horizon, the mural will at times seem to merge with the sky, giving this architectural monument a lightness of possibility, as Treister transforms it into a space for imagining different futures.
A project supported by Battersea Power Station as partners of Art Night 2018.
Follow Artists In This Show