"8 Immortals" New Series by Tamen+ 八仙过海
Tamen+'s new works featured in this exhibition are equipped with a striking array of clever compositional devices, symbolic references and pictorial metaphors alerting our higher order of thoughts that these are not ordinary paintings telling ordinary stories.
Mar 18th – Apr 22nd
Shanghai, 191 South Suzhou Road Art+ Shanghai Gallery Huangpu District
Map & Full Hours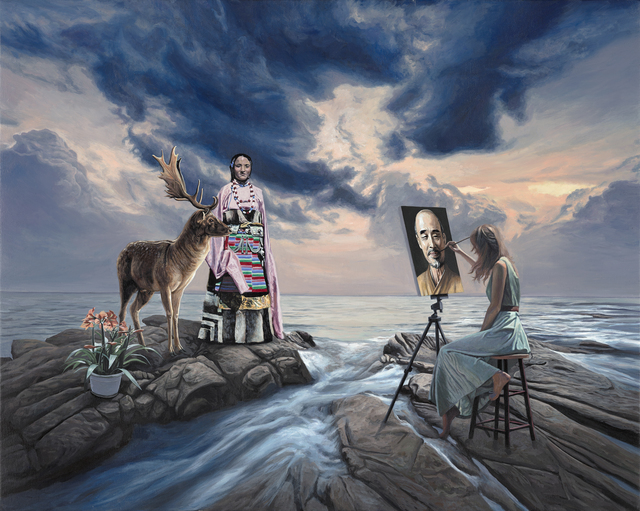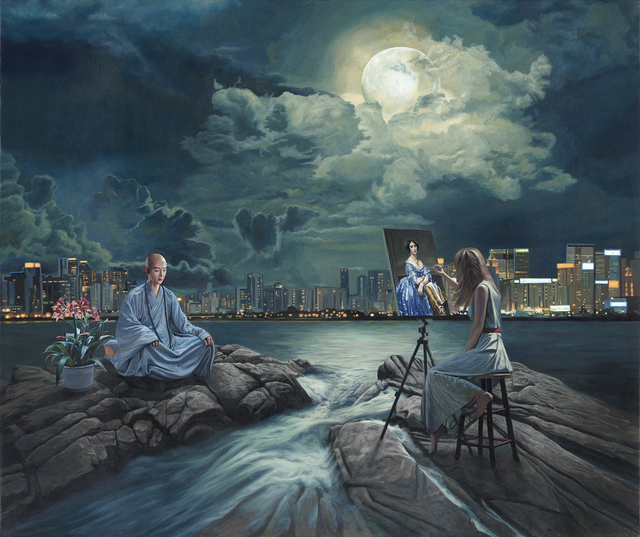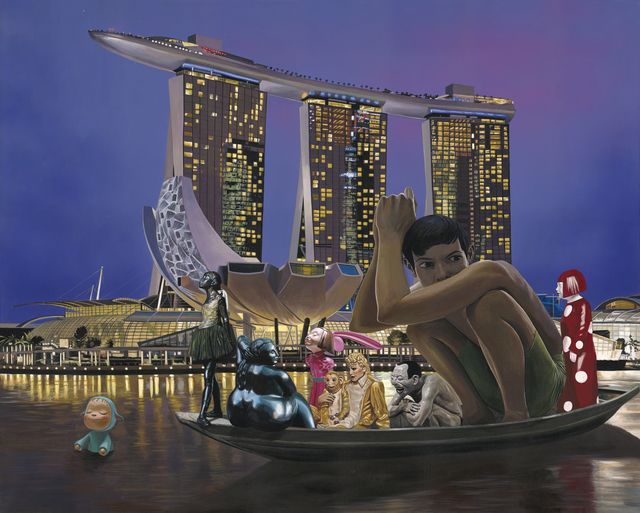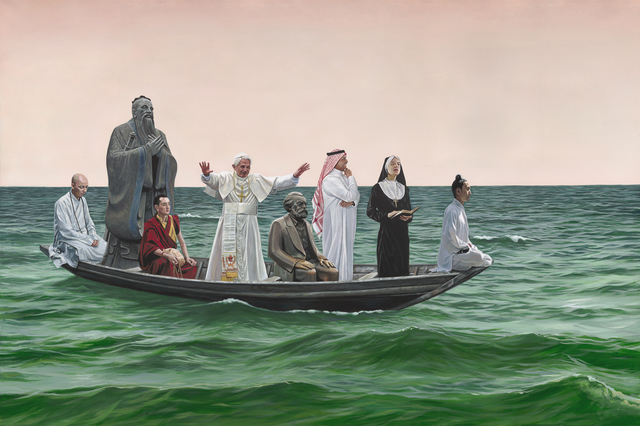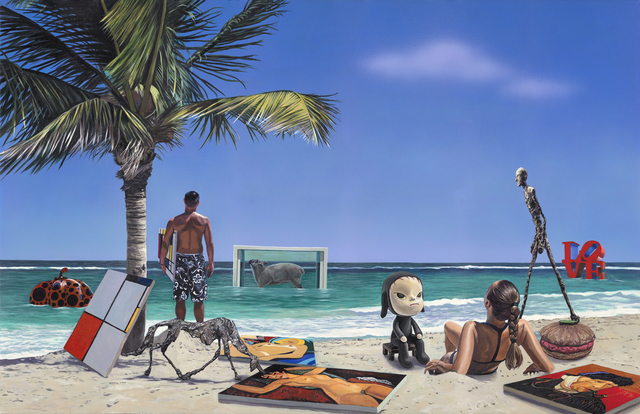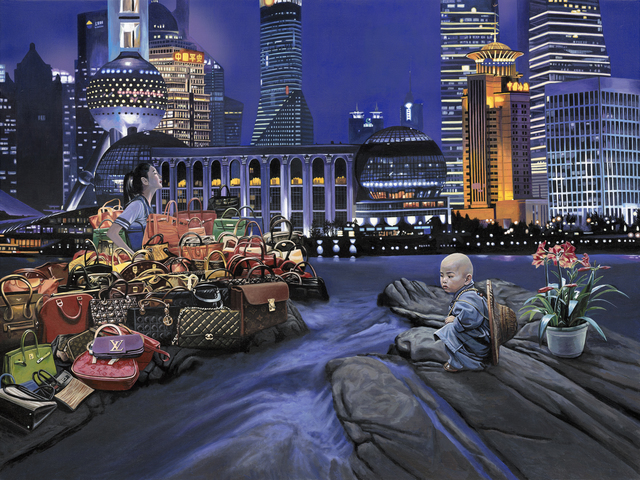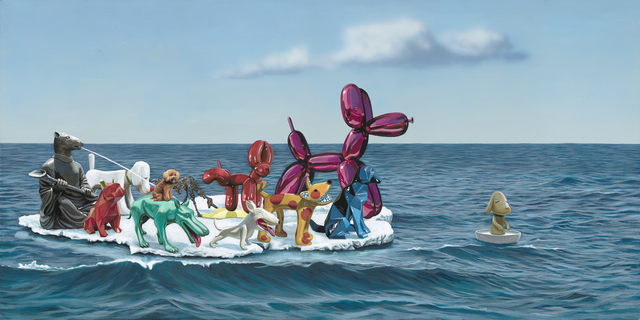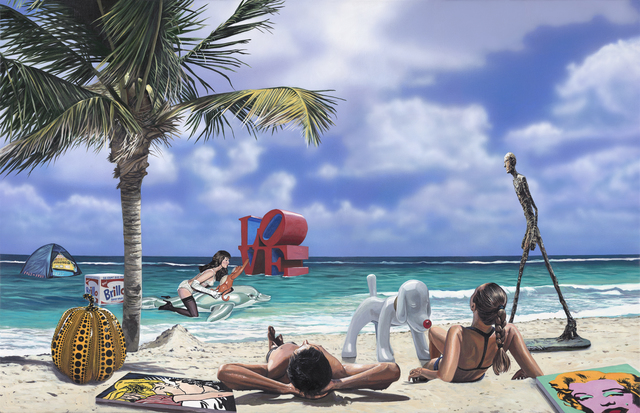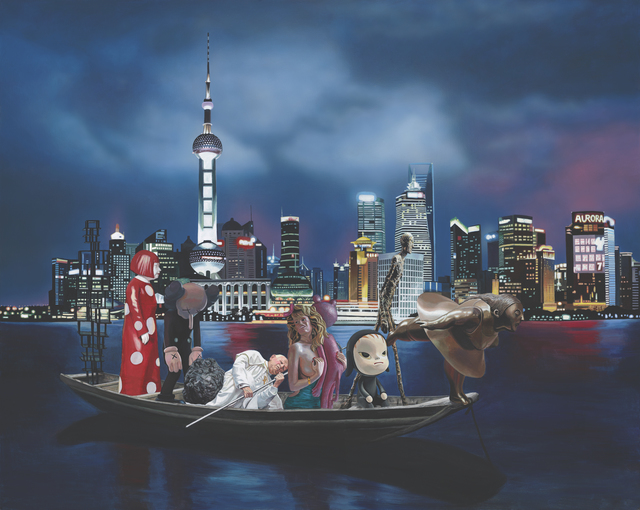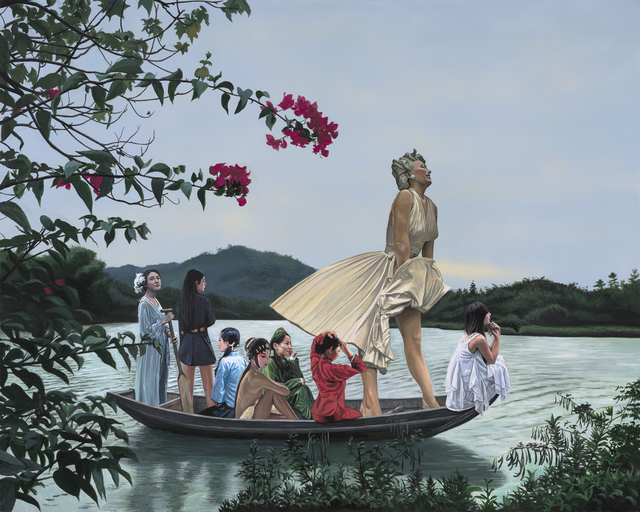 Press Release
Tamen+'s second exhibition at Art+ Shanghai Gallery 8 Immortals features new series of paintings by the artists, inviting to explore the unknown islands and sail along with peculiar passengers, marvel at the skyline of the world's busiest cosmopolitans and drift in quiet bays and lagoons with stopovers at white sandy beaches, but more importantly, this exhibition invites the viewers to navigate the complexities of Tamen+' new and multilayered pictorial reality while examining the depth of one's own inquisitive mind.
The title of the exhibition "8 Immortals" draws inspiration from Chinese folklore. Numerous legends and tales were composed about the eight deities, among which "The Eight Immortals Cross the Sea" (八仙过海 bā xiān guò hǎi) is seen as one of the most famous literary works by Wu Yuantai that brings all of the characters together. It tells the story of eight immortals venturing on the expedition to discover the submarine world and wonders that it beholds. Unable to take a ride on a cloud, the usual means of celestial transportation, and facing the need to fight the malicious sea king, the immortals are forced to collect their wits to withstand the troubles and make use of the special powers that each was once bestowed with.
The tale preaches a straightforward lesson - when the time comes one must give a full play to ones unique talents, skills and capabilities. In the setting of the real world however this lesson can be subjected to a number of interpretations. Should we all use our unique talents to reach the collective goal successfully? Are we left to our own devices when it comes to survival? Or is it that each of us should be working hard to outshine each other in our highly competitive environment?
When it comes to the real world, final and definitive answers can no longer be given. In art, such answers never existed; there are simply no absolute certainties. Doubt has always been a stimulus to creativity; it has also been a stimulus to interpretation of the products of such creativity.
Tamen+'s new works featured in this exhibition are equipped with a striking array of clever compositional devices, symbolic references and pictorial metaphors alerting our higher order of thoughts that these are not ordinary paintings telling ordinary stories. They push our mind and consciousness to go beyond the sensus literalis. At times, comprehending the hints cleverly left by the artists becomes a sole target behind a thorough artwork examination. The use of those hints not only glorifies the painting but also the heights of the human's thoughts and consciousness.
A viewer, familiar with works, collaboratively created by Lai Shengyu and Yang Xiaogang, will surely wonder what is the real meaning behind Tamen+'s 'immortals' masquerade. How Mueck's gargantuan "Boy" found himself in the same boat with the queen of polka dot avant-garde on one side and Yue Minjun's ever smiling sculpture on the other, what pleasure Koon's Michael Jackson and Bubbles found in the company of Botero's full-figured bronze señorita seating right behind Degas' Little Dancer and Yoshitomo's Little Wanderer?
Perhaps, the impulse to look for things that they have in common is misleading and it makes more sense to focus on already evident differences and how these differences coexist can help us reach a common goal, such as 'crossing the sea', for instance, or getting along on the same shore, or living in peace with each other on the neighboring islands. Despite the cultural differences, religious and political beliefs, age or gender, financial or marital status, Tamen+ sends the message to embrace and celebrate the difference. After all, no matter if we find ourselves on the same boat or in the "Same Room", we are all in it together. Be it a boat or floating iceberg, we should rather see it as a microcosm of the whole world, nation, city or even a small group of people, where individualities are encouraged to stand out but yet manage to coexist peacefully together.
The Island series is another new series of works featured in 8 Immortals. Adding the aesthetic tension to the paintings, a new conspicuous and out of place element – a flowerpot- appears as an indispensable item of the new series. Two islands, separated by a narrow strait seem to drift even further away from each other as the flowerpot interchangeably settles on one of the islands.
To isolate one thing from another, a third thing is needed which must be neither like the first nor the second – a neutral object. For Tamen+, this object is a flowerpot. It came to replace the omnipresent vigilance of a stranger in a leather jacket from the Same Room series and shift the unpleasant energy of constant control to a persistent energy of the artists' presence. Yang Xiaogang comments on the new element on their paintings, "Tamen+ wants to alert viewer's attention by portraying the same object over and over again. It is also related to our philosophical belief regarding change and timelessness. We think that even though the world is changing every single day, there must be something that remains constant." Therefore we can come to understand the 'constant' being a creator.
Tamen+'s new Island series deserves a special attention. Constructing new settings for the action to take place, Tamen+ juxtaposes different concepts and ideas employing, already familiar to us from the Same Room series, interpretational and compositional framing device that appears in a form of another painting. For instance, in "When Will You Get Married?" a Buddhist monk is juxtaposed to Tamen+'s representation of Gauguin's "Nafea Faa Ipoipo" or "Who Will Your Merry?" Two Tahitian women depicted on the canvas are wearing flowers behind their ears, which in Tahiti came to signify woman's desire to find a husband. Tamen+ adopted Gauguin's title for their own work, altering it slightly to "When Will You Get Married?", - as if questioning a man depicted on the other island. His clothes suggest that the man is a monk, which cause immediate association with celibacy.
Tamen+'s choice to make another painting the subject of one's own work lays in the intention of capturing our attention and allowing the viewer to guess the relationship of the artists towards the portrayed subject matter. With the framing device artists manage to direct viewer's gaze and shape one's perception. Tamen+ channel our attention towards the 'model' that is usually portrayed on the left 'island' through the painting laid on an easel in front of the 'painter' on the right 'island'.
Such representation inside of a representation that Tamen+ employs questions the modalities of representation and what it is able to convey in critical and allegorical terms. Thus, our consciousness comes full circle because we are presented with the paintings whose levels of meanings require that consciousness to transform itself into different modes to eventually bring us back to the painting and our ways of looking at it in order to understand what it is that we actually see.
Collaboratively created by Lai Shengyu and Yang Xiaogang, Tamen+'s works evince a remarkably distinguishing style of artistic expression. In subject matter, their amazingly frank and ironically tinged observations of the contemporaneity are accompanied by the artists' unique take on self-expression, identity and human's psyches in a confused and globalized world. Their realistic portrayals of seemingly surrealistic scenarios, unexpected juxtapositions, and irrational imagery provoke a long lasting impression on the viewers. Having a extraordinary quality of capturing viewers' attention and inspiring inner dialogues, Tamen+'s carefully engineered paintings have a way with one's consciousness, they make us feel simultaneously ironical, erudite, silly, sophisticated, and bemused.
by Liya Prilipko
Art+ Shanghai Gallery
Follow Artists In This Show