Video Spotlight: Eko Nugroho
Asia Society Museum presents three video works by Indonesian artist Eko Nugroho. In conjunction with the exhibition, Asia Society has commissioned Nugroho to create a site-specific mural in its lobby Visitor Center, Jan. 7-9, that will also be on view through April 16.
Dec 20th, 2016 – Apr 16th, 2017
New York, 725 Park Avenue (at 70th Street)
Map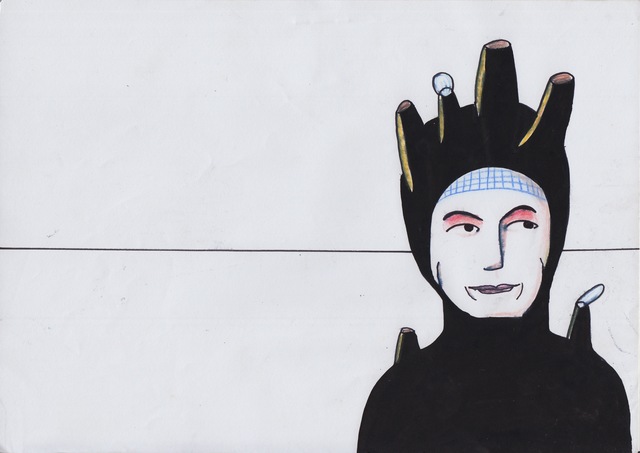 Press Release
Street art has been one of the most exciting new areas of contemporary art practice in the rapidly growing cities of Asia. The visual idioms and spontaneous nature of graffiti and mark-making, are not only acts of artistic resistance against the corporatization and policing of public space in the city, they are also a distinctive visual marker of the globalization of art styles. Asia Society Museum has commissioned the Indonesian artist Eko Nugroho (b. 1977, Yogyakarta), to create a new site-specific mural in its lobby Visitor Center. On completion, the mural will be on view through April 16. The public is invited for a rare opportunity to watch the artist at work January 7–9, between 11:00 am and 6:00 pm. Please check AsiaSociety.org/NY for viewing times.
Alongside this new commission, Asia Society Museum is pleased to present an exhibition of three video works by Nugroho that will be on view from December 20, 2016, to April 16, 2017. The exhibition Video Spotlight: Eko Nugroho and the site-specific installation On Site: Eko Nugroho coincide with the world premiere of Nugroho's commissioned performance God Bliss (In the Name of Semelah), with his theater company Wayang Bocor, at Asia Society, January 12–14, 2017.
Eko Nugroho's multidisciplinary practice uses humor and irony to address social issues and changes within the rapidly urbanizing society of his native Indonesia, including risks associated with religious fanaticism, misogyny, and the breaking of traditional taboos by the younger generation. He works in many mediums including drawing, painting, sculpture, video, performance, and street art.
"Southeast Asia is by nature religiously plural in nature, Hinduism, Buddhism, Christianity and Islam co-exist with animist beliefs into the present day" says Boon Hui Tan, Asia Society Vice President for Global Arts & Cultural Programs and Director of Asia Society Museum. "Nugroho's work at the Asia Society explores this convergence of Islamic, Buddhist, Hindu, and Javanese cultures by marrying folk traditions with contemporary street art, graffiti, video games, and comic book characters. This contemporary shadow puppet performance reminds us to look beyond monolithic narratives about Islam prevalent in the West today, instead the story is of a subtle, complex and accommodating tradition that grew into an integral part of a plural tolerant Indonesia and Southeast Asia."
This exhibition features three single-channel video works by Nugroho from the Asia Society Museum Collection: Bercerobong (Like a Chimney), 2002; The Breeder, 2003; and Let Me Love Me, 2004. The works are key examples of the artist's early use of video animation within his larger practice and are aesthetically grounded in his signature graphic cartoon-like drawing style. These videos collectively explore the rapidly shifting social landscape that emerged in Indonesia after the fall of the Suharto regime. In these surreal narratives, the interactions of imaginary cartoon-like characters humorously illuminate the subtle political and social contradictions inherent in the realignment of power and the subsequent effects on the population at large.
Eko Nugroho grew up in Java and resides in one of the island's major art centers, Yogyakarta. He is one of the most acclaimed members of the young generation of Indonesian contemporary artists, often referred to as the 2000 Generation that came to maturity during the period of Reformasi (reformation) in the 1990s. This tumultuous time of socioeconomic and political uncertainty within Indonesia included the 1997 Asian financial crisis, the subsequent fall of the Suharto regime in 1998, and the transition to democracy. Like other artists of the 2000 Generation, he is deeply engaged with the culture of his time, and his work is infused with socio-political commentary, local traditions, and popular culture.
Eko Nugroho's residency is supported in part by the Doris Duke Foundation for Islamic Art.
Concurrently on view is the exhibition Masterpieces from the Asia Society Museum Collection, featuring a selection of the finest works from the Asia Society Museum's renowned permanent collection. Included are superior Chinese, Korean, and Japanese ceramics, extraordinary examples of Indian and Cambodian sculpture created for royal temples, and sculptures from South and Southeast Asia and the Himalayas that show the varied imagery associated with the transmission of Buddhism across the region. The exhibition is on view December 20, 2016, through January 7, 2018.
Support for Asia Society Museum is provided by the Asia Society Global Council on Asian Arts and Culture, Asia Society Friends of Asian Arts, Arthur Ross Foundation, Sheryl and Charles R. Kaye Endowment for Contemporary Art Exhibitions, Hazen Polsky Foundation, Mary Livingston Griggs and Mary Griggs Burke Foundation, and New York State Council on the Arts.
Performance: Eko Nugroho and Wayang Bocor: God Bliss (In the Name of Semelah)
Asia Society presents the world premiere of Nugroho's commissioned performance God Bliss (In the Name of Semelah), on January 12–14. Using a distinctive blend of high and low art, Nugroho's theater company Wayang Bocor presents a contemporary form of theater weaving together traditional elements of Indonesian wayang (shadow puppets) with live theater and acting casting a satiric view on contemporary subjects. God Bliss (In the Name of Semelah) tells the story of how Islam came to Java, and became absorbed as a part of Javanese culture that included elements of Hinduism, Buddhism, and animism. The piece reflects on the tolerant and inclusive nature of Islam in Southeast Asia while contrasting it with prevailing Western conceptions of the religion.
Tickets are $20 for Asia Society members; $22 students/seniors; and $25 nonmembers. Free for APAP badge holders, pre-registration required. For more information, show times, and to purchase tickets, visit AsiaSociety.org/NY.
God Bliss (In the Name of Semelah) was commissioned by Asia Society as part of the ongoing initiative Creative Voices of Muslim Asia, supported by the Doris Duke Foundation for Islamic Art. With additional support from Carolina Performing Arts at the University of North Carolina at Chapel Hill.
Presented as part of The Public Theater's Under the Radar Festival.
About Asia Society Museum
Asia Society Museum presents a wide range of traditional, modern, and contemporary exhibitions of Asian and Asian American art, taking new approaches to familiar masterpieces and introducing under-recognized arts and artists. The Asia Society Museum Collection comprises a traditional art collection, including the initial bequests of Mr. and Mrs. John D. Rockefeller 3rd, and a contemporary art collection. Through exhibitions and public programs, Asia Society provides a forum for the issues and viewpoints reflected in both traditional and contemporary Asian art, and in Asia today.
Founded in 1956, Asia Society is a nonprofit, nonpartisan, educational institution headquartered in New York with state-of-the-art cultural centers and gallery spaces in Hong Kong and Houston, and offices in Los Angeles, Manila, Mumbai, San Francisco, Seoul, Shanghai, Sydney, Washington, D.C., and Zurich.
Asia Society Museum is located at 725 Park Avenue (at 70th Street), New York City. The Museum is open Tuesday through Sunday from 11:00 A.M. to 6:00 P.M. and Friday from 11:00 A.M. to 9:00 P.M. Closed on Mondays and major holidays. General admission is $12, seniors $10, students $7; and free for members and persons under 16. Free admission Friday evenings, 6:00 P.M.–9:00 P.M. The Museum is closed Fridays after 6:00 P.M. in July and August.
Follow Artists In This Show