Sandwich Special | Declarations
May 11th – Jun 3rd 2017
Vancouver, 602 E Hastings St.
Map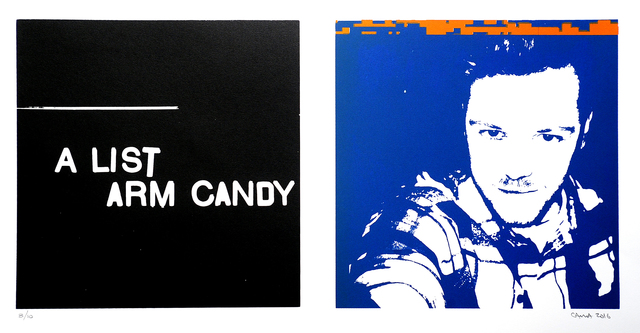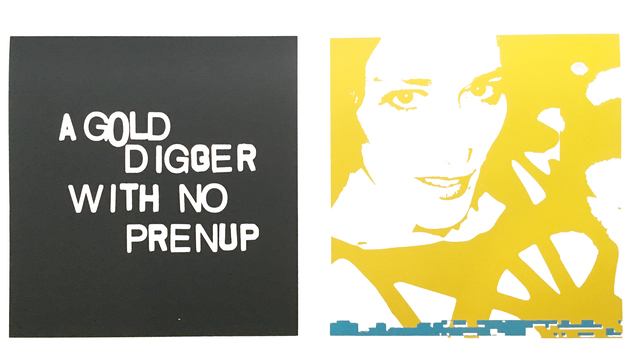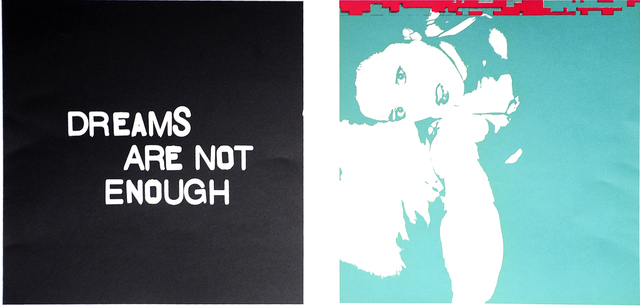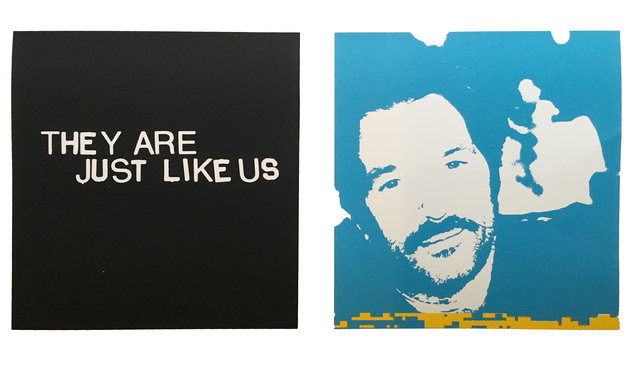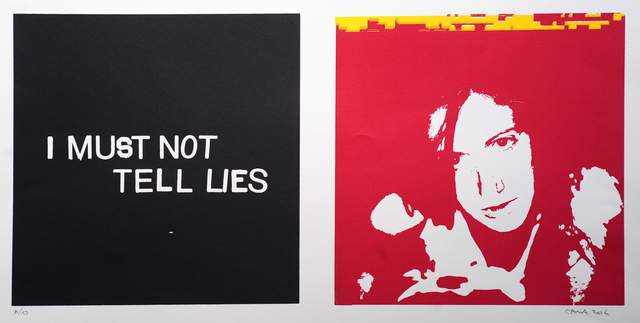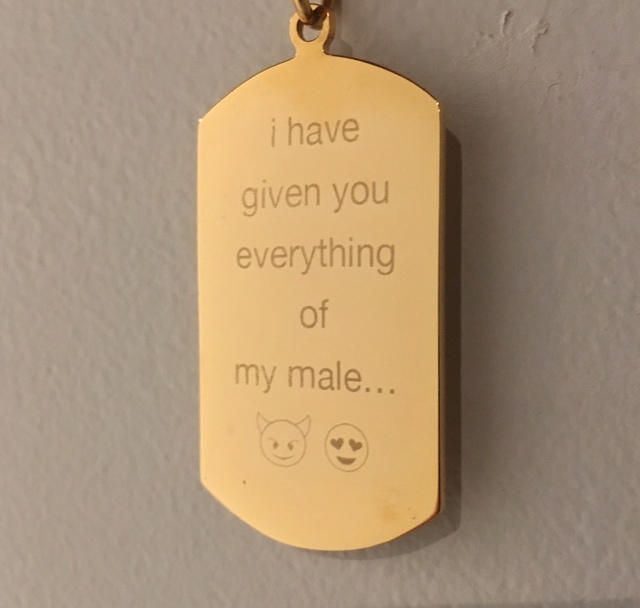 Press Release
Back Gallery Project presents new work by Cam Andrews, entitled "Sandwich Special" and new work by Jessica Bushey, entitled "Declarations."
Sandwich Special is a reference to the diner menu board Cam Andrews uses to typeset his text pieces. Through the juxtaposition of text and brightly coloured pop images, Andrews highlights the fast, fleeting and superficial reality that is presented through "selfie culture." The text pieces paired with images are headlines that Andrews has curated from tabloids, exploring the idea that celebrity culture itself has adopted the selfie as a form of currency, to be traded and collected. Through social media platforms, the selfie allows celebrities "them" and civilians "us" to constantly create identities and promote new personas.
Declarations are text-based works that draw upon What's App exchanges that reveal the early stages of cross-cultural flirtation. Combining different mobile applications to translate, send and receive texts, Bushey explores how identities are formed and seduction is conducted within the limitations of specific technologies. Bushey is interested in the slippage that occurs and the poetry that emerges. The body of work includes 30 translated declarations, which are embossed in gold charms and also available through a mobile subscription service for a period of one month enabling the collector to experience the thrill of seduction.
Cam Andrews and Jessica Bushey pursue individual, as well as collaborative art practices. Their most recent collaboration was, "fugitive" an installation in the group exhibition entitled Through the Trapdoor (2014), which transformed a storage locker into a light box to explore technologies of memory. The project was the result of an invitation to artists to temporarily inhabit a storage rental building that was scheduled for demolition. Prior to that, Andrews and Bushey installed a series of large-scale photographs of convicted criminals from the early 1900's at the corner of Robson and Granville Streets. The work, titled "Rogues' Gallery" was born out of an archival police ledger and was in response to an invitation to artists to explore the history of Vancouver. The installation referenced recent Stanley Cup riots and methods used by the authorities to identify potential law breakers via social media. It also highlights early approaches to policing based on race, gender and class.
Cam Andrews is an owner and creative director of Bomber Brewing. Jessica Bushey is an archives consultant with the UN Climate Change secretariat in Bonn, Germany. Andrews and Bushey have been exhibiting their artwork in Vancouver for the past twenty-years and have numerous received grants and awards, including Canada Council for the Arts (CCA) and Social Sciences and Humanities Research Council (SSHRC).
​
Laurent Craste | Revolution's Small Collateral Damage
​
June 8 - July 1, 2017
Of French origin, Laurent Craste has been living and working in Montreal for the past 25 years. His practice focuses on the exploration of the multiple layers of meaning of decorative objects: ideologically, aesthetically, and through their sociological and historical dimensions. The porcelain vase, in particular, has for years been the subject of predilection of the artist's work. Laurent Craste appropriates this archetypal figure of decorative arts, using it as matter, support and playground for his artistic interventions, in order to create striking formal and conceptual proposals.
Ceramist by trade, Laurent Craste also holds a Master in Visual and Media Arts from UQAM, and he was awarded numerous prizes and awards during his career (Winifred Shantz Award, Grant to artists from the Canada Council for the Arts and the Quebec Arts Council, etc.) His works are on display in numerous private and public collections (Montreal Museum of Fine Arts, the Public collection of the Department of Foreign Affairs and International Trade of Canada, Claridge collection, etc.).
Throughout his almost 20 years long career, Laurent Craste participated in about 60 group exhibitions in Canada, the United States, Europe and Asia. He also presented a dozen solo exhibitions. Over the past two years, he proposed two major solo exhibitions at the Montreal Museum of Fine Arts and the Tom Thomson Art Gallery in Owen Sound, Ontario. This year, his work has also been exhibited in New York (Museum of Moving Image) and Paris (Cité de la Mode et du Design).
Follow Artists In This Show