Barbara Wien
Artissima 2016
Luca Frei's "Musica Viva Spreads" consists of nine quilts. Their design is based on nine double-page spreads from the first issue of the magazine "Musica Viva", a music journal that the German conductor and pioneer of avant-garde music Hermann Scherchen founded in Brussels in 1936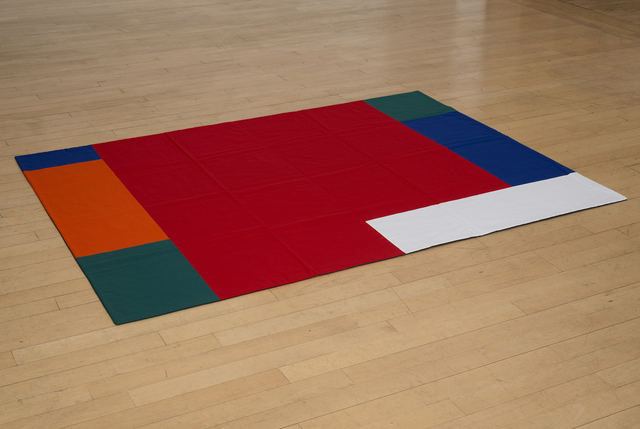 Press Release
"Musica Viva Spreads" – Luca Frei's most recent installation presented at Artissima 2016 – consists of nine quilts. Their design is based on nine double-page spreads from the first issue of the magazine "Musica Viva", a music journal that the German conductor and pioneer of avant-garde music Hermann Scherchen (Berlin 1891 – Florence 1966) founded in Brussels in 1936.
"Musica Viva" was the product of a larger editorial project called "Ars Viva", intended to create an alternative platform and support system for new music that could not prosper in Nazi Germany, which Scherchen left in sign of protest in 1933. With every article printed in four languages (English, French, German, and Italian) "Musica Viva's" internationalism was present on every page. "The language question is obliterated in the whole world of culture," read a review at the time, "and the revue may be appreciated by all." However, this utopian impulse made the journal expensive to produce and it lasted for only three issues.
For "Musica Viva Spreads", Luca Frei has selected a color for each language – orange for English, green for French, red for German, and blue for Italian – and created color coded areas according to the way the text flows on the double-page spreads.
The quilting technique gives to the works the quality of being an image but also something potentially functional. Here basic colors and simple geometric forms start to create a new language model that is both visual and tactile. The spreads can be hanged on the wall or from the ceiling, thus influencing the acoustics of a room by reducing the echo; they can be laid out individually, joined together to form a large area, or stacked on top of each other like a mat.
Luca Frei (*1976 in Lugano, lives and works in Malmö) is known for designing spaces that encourage free learning and emancipatory action. Many of his works derive from archival material and include sculptures, installations, drawings and texts. His projects are often developed in response to a specific context in the form of architectural interventions, narrative environments or exhibition display structures that invite public participation and dialogue.
Amongst others Frei has had solo shows at the Kunsthaus Glarus, the Bonner Kunstverein, the Museo Cantonale d'arte, Lugano, the Lunds Konsthall, and the Nuova Accademia di Belle Arti, Milano; he took part in various international group shows, e.g. at the Malmö Konsthall, Tate Liverpool, The Drawing Room, London,
Van Abbemuseum, Eindhoven, Centre Pompidou, Paris, and Moderna Museet, Stockholm.
Follow Artists In This Show