Josh Smith: The American Dream
The Brant Foundation Art Study Center is pleased to present The American Dream, an exhibition of new large-scale paintings and collages by New York-based artist Josh Smith.
May 7th – Sep 16th 2011
Greenwich, 941 North Street
Map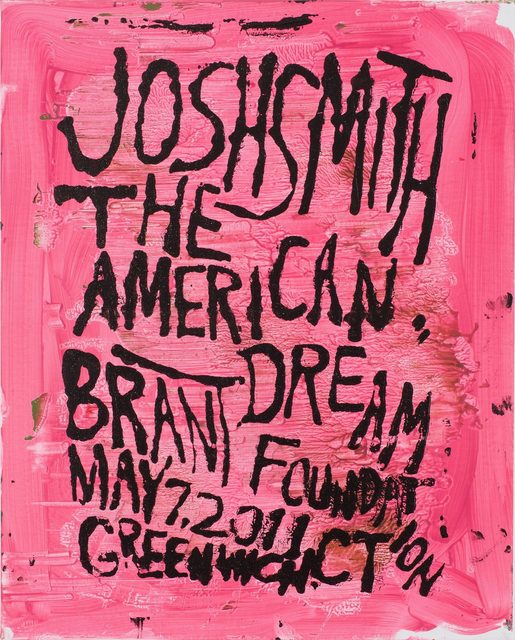 Press Release
Smith will transform The Brant Foundation into a temporary studio where he will spend thirty days producing new work for the forthcoming exhibition. This is an appropriate scenario for the artist, as his practice is largely visceral and spontaneous. In preparation for his show, Smith consulted Urs Fischer, the artist who previous exhibited at the foundation, and Julian Schnabel, who helped design the physical space, and has incorporated their input in his plans for the exhibition.
Josh Smith's paintings are widely known for negotiating the concept of an artist's "signature style," as evidenced in works where his own name appears repeatedly both signified and abstracted. His paintings further explore the contentious relationship between abstraction and realism, challenging aesthetic dominance and re-contextualizing the mundane. Counterbalancing his body of work between the deliberate and deliberately random, Smith confronts the notion of compositions created entirely by chance.
Equally paramount to Smith's practice are his collages, which mix ordinary found material such as newspapers with painting, silk-screen, and reproductions of his own work. Some recent collages consist entirely of printed images of his existing work. These works differ in that they play with scale and the printer's color modulation feature, experimenting with developing infinite variations of the original images. Similar to his "name paintings," the "subject" here is the critical potential of repetition and self- reference.
Follow Artists In This Show